Sport
Bryce Perkins leads Virginia to 33-28 Win Over Georgia Tech
Senior quarterback Bryce Perkins had 258 yards passing, and 106 yards rushing, as the UVa football team beat Georgia Tech 33-28 at Scott Stadium.
Saturday, November 9th 2019, 4:09 PM EST
CHARLOTTESVILLE, Va. (WVIR) - Bryce Perkins accounted for 364 total yards and two touchdowns leading Virginia to a 33-28 win over Georgia Tech Saturday at Scott Stadium.
Perkins has 106 yards rushing with one touchdown and had 258 yards passing with another touchdown.
Perkins now has back-to-back games of over 100 yards rushing.  He racked up a school record 490 total yards last week at North Carolina.
"It's offensive line improvement. That's allowed Bryce [Perkins] to run more effectively to have more protection, to throw more effectively," says UVa head coach Bryce Perkins.  "Our offensive front has trended upwards for about the last six weeks. It's been incremental, it's been slow, it's been sometimes less visible to the outside world but I've seen it. That's the biggest difference which then has allowed Bryce to be who he really is as he has also become healthier."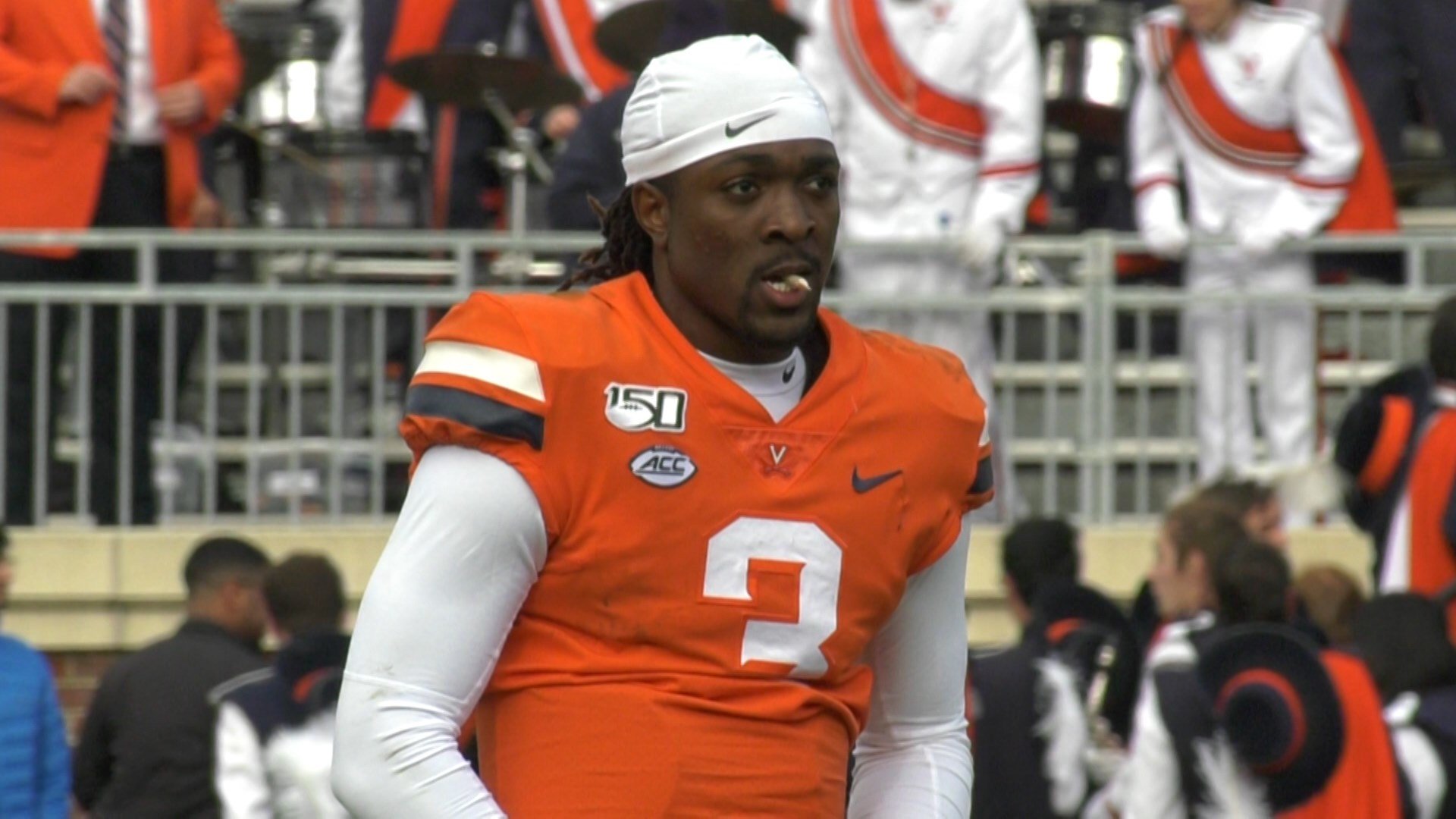 Wayne Taulapapa had 37 yards rushing and two touchdowns.
Terrell Jana caught nine passes for 108 yards, leading Virginia in receiving for the second straight game.
Virginia improves to 7-3 overall and 5-2 in the ACC and still controls its own destiny for a Coastal Division title.   Virginia's final ACC game is against rival Virginia Tech in Charlottesville.
The Cavaliers are a perfect 5-0 at home this year and now have a bye week before playing host to Liberty.
Virginia Game Notes from the University of Virginia
 
Georgia Tech at Virginia
Saturday, Nov. 9, 2019
Scott Stadium
 
Team Notes
• UVA won its fifth ACC game of the season, marking the most by the Cavaliers in a season since 2011 (5-3).
UVA is 21-19-1 all-time against Georgia Tech.

UVA is 12-4-1 all-time against Georgia Tech at Scott Stadium.

UVA is 47-45-2 all-time on Homecomings.

UVA is 2-2 all-time against Georgia Tech on Homecomings.

UVA scored a rushing touchdown on its first possession of the game for the fifth time this season (four TDs, one FG).
Player Notes
• QB Bryce Perkins finished with one passing touchdown and one rushing touchdown. It is the fourth time this season and 10th time in his career he has thrown for at least one touchdown and rushed for at least one touchdown in the same game.
With 258 passing yards, Perkins passed No. 8 Marques Hagans, No. 7 Marc Verica and No. 6 Aaron Brooks on UVA's all-time career passing list. He is the seventh Cavalier all-time to pass for over 5,000 career yards. 

Perkins threw for 258 yards, marking the sixth time this season and the 13th time in his career that he has eclipsed 200 passing yards in a game.

Perkins passed for 200+ yards and rushed for 100+ yards in the game. It is the fifth time in program history a UVA quarterback has done that. Perkins has done it four times in his career. Bob Davis first did it in 1965 at Georgia Tech. 

WR Terrell Jana finished with 108 receiving yards, eclipsing 100 yards receiving for the second week in a row. Jana has two career games of 100+ receiving yards. 

TB Wayne Taulapapa rushed for two touchdowns against Georgia Tech. He now has 11 rushing touchdowns on the season. His first came on UVA's first possession of the game. His second score came in the fourth quarter to put UVA up 33-21. The 11 rushing touchdowns is the most by a Cavalier since Kevin Parks had 11 in 2013.

WR Billy Kemp finished with four receptions for 51 yards, both career-highs. 

S Joey Blount notched his third interception of the season (fifth of his career) in the first quarter. The 37-yard return was the longest of his career. 

OLB Noah Taylor finished with one tackle for loss. He now has a TFL in nine-straight games.