News
Consulting Group Speaks with C'Ville City Councilors & Planners about Zoning
The push for more affordable housing in Charlottesville has city councilors and planners eyeing a potential change to how they look at zoning regulations.
CHARLOTTESVILLE, Va. (WVIR) - On Thursday night, Charlottesville city councilors and planners are looking at ways to improve the city's housing options and infrastructure, while maintaining the integrity of its neighborhoods.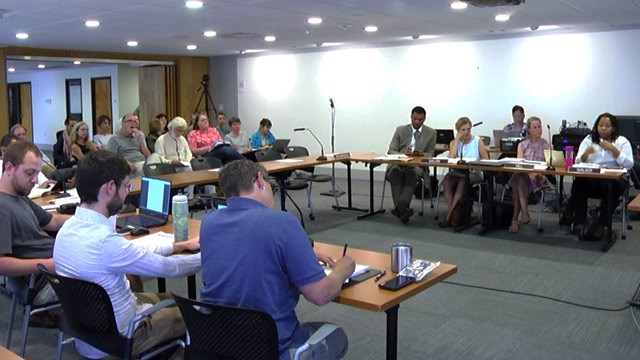 During the Thursday meeting, councilors and planners got input from a consulting group. They looked at the potential impacts of using Form-Based Code (FBC), which lays out the way parts of the city are zoned for structural use. Zoning changes could be in the works for Charlottesville.
"It takes what we have heard the community tell us they want - in terms of the scale and character of the place," said Marina Khoury, with DPZ CoDesign.
City councilors and planning commissioners got a look at potential new plans to use FBC in neighborhoods surrounding IX Art Park.
"The intent of the FBC is also to enable a greater range of housing, and locally-oriented businesses as well," said Khoury.
Consulting group, DPZ CoDesign, suggests using Form-Based Code. That means instead of the traditional land-use regulations, the city is looking at new innovative ways to get more people to live, work, and play all in one place.
"We think it can help preserve existing affordable units, give you access to more open space, and certainly more beautiful open space. More Inclusive housing, create the opportunity to have a greater mix of business types," said Khoury.
This comes as the city faces the need for thousands of affordable housing units.
Planning commission chair Lisa Green says the potential zoning change could help address the shortage. "It does lay out things a little more clearly for developers to come without having to go through the process of a special use permit and all those unknowns."
Green says Form-Based Code would just be one step in the right direction, and additional work is needed to create more affordable housing in the city. "This is stepping a little bit outside the box and I do think without doing it throughout the whole city that we've got an area that is a good test case."
The city will host two open houses on September 4th and 5th  to get feedback on the potential coding change from people who live in that part of the city, which has been designated a 'strategic investment area'.