News
Staunton Downtown Development Association's Executive Director Resigns
After 14 years as the executive director of the Staunton Downtown Development Association, Julie Markowitz is resigning.
STAUNTON, Va. (WVIR) - The leader of one of the best Main Street communities in the country is stepping down. After 14 years as the executive director of the Staunton Downtown Development Association, Julie Markowitz is resigning.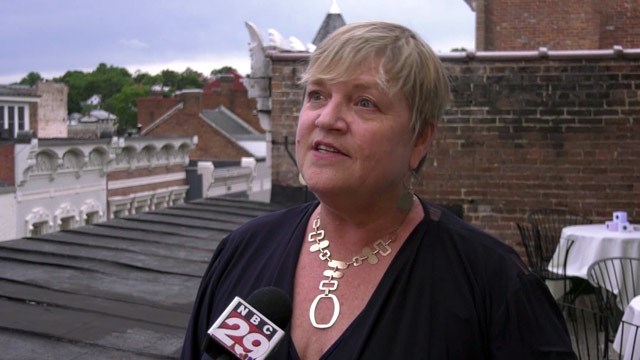 During her tenure, Markowitz guided Downtown Staunton through re-branding, a down-turned economy, buy local campaigns, award wins, and grant competitions like BRIGHT Idea and StauntoNites.
"I would recommend this job to anyone. You will find strength, and creativity, and power within yourself that's fueled by other people that you just never thought that you could ever have. I mean it's just been the most amazing experience I'll ever have and I'm very, very proud to have been part of it," said Markowitz.
Markowitz will stay on through January when the newlywed plans to devote more attention to her personal life.
Staunton Downtown Development Association Press Release:
Wednesday, August 14, 2019 (Staunton, VA) – The Staunton Downtown Development Association's (SDDA) Executive Director, Julie Markowitz announced her intentions to resign last night at the SDDA Board meeting. "Serving the Staunton Downtown Development Association has been both an honor and a privilege. The opportunities offered to me in the past fourteen years have helped me to grow in ways that I never imagined and watching downtown blossom into the Main Street that is today has been the source of great pride," said Julie Markowitz. "I have decided to resign from my regular job, and to give up my position as Executive Director, while I explore some new career options and to devote more energy to my personal life."
During her tenure, Ms. Markowitz has guided the SDDA and Downtown Staunton through new branding and website, the gift card program and the downtown dig of 2010, the dawn of social and digital media, the economic downturn and the new normal, buy locally campaigns and Small Business Saturday, StauntoNites grants, BRIGHT Idea Grants and the BRIGHT Rewired Business Plan Competition, and the Extended Hours program and street entertainment. She received grants and fundraised to upgrade lights, purchase new banners, fund the flower basket program, purchase pedestrian and parking deck maps and refurbish sign kiosks.
She fostered relationships with local media and businesses sponsors for an average of $60,000 in cash and in-kind donations annually. She applied for and was awarded over $300,000 in grants and scholarships.
The Board is eternally grateful to Julie for her years of service as the Executive Director," stated Anna Schoenduby, SDDA Board President. "Julie has dedicated her life to our downtown community over the past 14 years and we are stronger for it.  Downtown Staunton has been re-energized and seen incredible growth over the past decade.  We are proud of where our community has come from and excited about where it is going next."
In December 2017, Julie married James Clough and it has changed the course of her life considerably.  She and James reside in Bridgewater, Virginia.  As a single person for the first 12 years, she was able to devote most of her time both in and out of the office, to the SDDA.  "I'm glad that I did because that kind of dedication was necessary, especially during the downturn" said Julie, "Now it's time for me."
For the SDDA, this is an opportunity to usher in a new era of development for Downtown and invite new talent to the table to lead and be proud in the service of one of the best Main Street communities in the nation. 
A regional search will be conducted to find the best candidate for replacement.  Information about the Executive Director position will be posted online at www.StauntonDowntown.org, on job recruitment and social media sites.