News
C'Ville Area People Gather Together in Prayer at Interfaith Service
On the second anniversary of the deadly Unite the Right Rally, people in Charlottesville gathered together in prayer.
CHARLOTTESVILLE, Va. (WVIR) - On Monday, August 12, people of all faiths gathered together to reflect and heal as a community in the wake of the violence in Charlottesville two years prior. To mark the second anniversary of the violent Unite the Right Rally, the Charlottesville Clergy Collective held an Interfaith Service at First Baptist Church Monday night.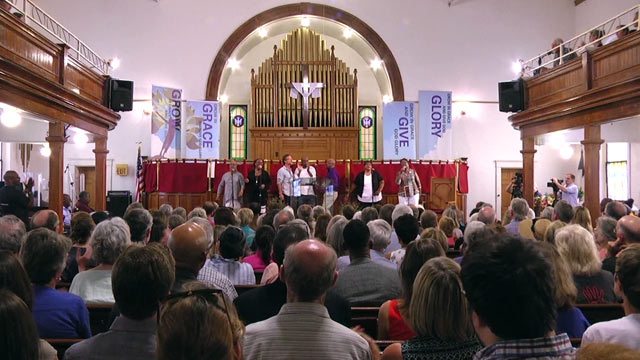 "Try to bring the community together in spirit and in love and talk about the process of trying to move toward healing from the dramatic events that we first faced around this time two years ago," said Don Gathers, organizer.
Dozens filled the pews to take part in song, prayer, and personal testimonies from people still affected by the events in 2017.
"We were there with Heather that day and for me and Courtney, it's a lot about Heather – Heather's death and Heather's passing. I know for a lot of other people, that's not what August 12 is about," said Marissa Blair, August 12 survivor.
"Part of what changed for me on August 12, was the realization that I needed to change my way about thinking about racism," said Rabbi Tom Gutherz, Congregate Beth Israel.
Members of the Charlottesville Clergy Collective said it's important to heal together as a community.
"This shows how we come over the division in our religion and we can overcome it in our culture, in our ethnicity in our race as well," said Ravia Povich, with Charlottesville Clergy Collective.
Organizers hoped the event highlighted the work that still needs to be done in the community.
"We move forward as a community and unit and it's important that we move together and it's important we have that tough and difficult conversation. That's the only way we're going to be able to make any progress," Gathers said.