News
Charlottesville Group Hosts School Supply Drive for Families in Need
Ashton's Birthday Wish helps students in need have school supplies for the upcoming year by hosting a donation drive.
CHARLOTTESVILLE, Va. (WVIR) - A community organization is knocking down pins to help some families back on their feet ahead of the school year. They are working to make sure all students have the supplies they need before class is back in session.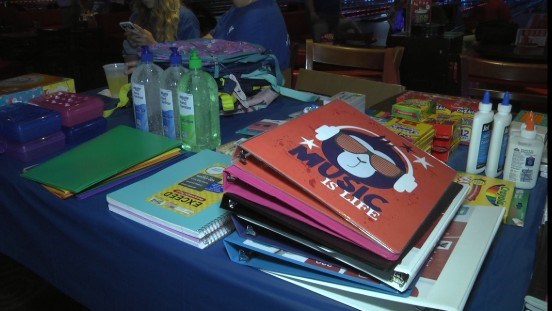 Ashton's Birthday Wish is a group involved with hosting community events to help people who are less fortunate. On Sunday, the group held a School Supply Drive at AMF Kegler Lanes in Albemarle County for the whole community to join. 
This is the second year of the School Supply Drive for families to help out one another in times of struggle.
"School supplies are a huge need and it's just something small we can do to be an extra helping hand," said Ashton Ryan, organizer of the event.
"Without the ones who donate we couldn't do this. There's so many families who have needs and if you can take that little bit off of a family, that's the reason we do this," said Kim Ryan, member of the group.
A handful of pens and pencils equal a great discount on some fun.
"The deal is you come in with school supplies and you get to bowl for $3," said Ashton.
Members of Miss Gordonsville's Flame Court also joined in on the drive greeting customers at the door.
"Ashton will start college this fall and we weren't sure we were going to do the School Supply Drive. We had some things left over from last year that we knew some families who needed the help, but a court, a pageant court Miss Gordonsville Flame came to us and said we thought about doing a school supply drive but we would rather do it under you guys," Kim said.
Ashton has been helping the community since he was twelve and says he will continue to help others.
"Being involved with the community is really a great thing, i wish a lot more people would do it and it's just something that I've done over the years that makes me happy and i feel like it makes others happy," said Ashton.
The group is also in need of hand sanitizer and hand wipes. If you would like to donate or know someone in need of school supplies click here.