News
Unity Days: Area People Gather at IX Art Park for Community Table Meal
People in Charlottesville are hoping to bring the community closer as we approach the anniversary of the violence at the Unite the Right Rally two years prior.
CHARLOTTESVILLE, Va. (WVIR) - On Thursday night, over 100 people gathered together to share their perspectives at a Community Table conversation. United Way said Community Table meals are all about having a conversation over a bite to eat with someone different from you to find common ground.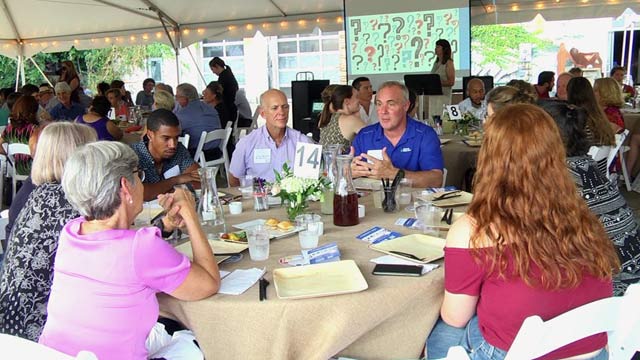 "It's about getting people together over food which is something we all share. Frankly, we all enjoy and just having a conversation on what goes on in the place we call home," said Price Thomas, who lives in Charlottesville.
Close to 150 people gathered at IX Art Park in Charlottesville to be a part of United Way's Community Table dinner.
"Bringing people together around a table having sometimes those hard conversations that you might not feel comfortable having outside of that environment and really talking about your perspective and your view on what makes a community great," said Ravi Respeto, President Thomas Jefferson Area United Way.
Organizers said they worked closely with the Unity Days committee to have the event ahead of the second anniversary of the violence surrounding 2017's Unite the Right Rally.
"Creating that unity by showing up and getting to know somebody else who might be different than you are," said Respeto.
People sat at tables of 10 and worked with representatives from the NewGen Peacebuilders Program to discuss different questions aimed about experiences and perspectives with our local school systems.
"its encouraging people to bring their opinions to the floor whether they've been here for 20 years or 10 minutes when you have an idea of how you want your community to be," said Thomas.
Organizers hope that sharing a meal and a conversation can help put the community in the right direction.
"It's not meant to be 'kum ba yah' and some of it might be rocky and some of it might be uncomfortable but that's how progress is made," said Thomas.