Sport
Cavaliers Face Experienced Oklahoma Squad in NCAA Tournament 2nd Round
The Virginia basketball team boasts a veteran group with postseason experience, but the Oklahoma seniors played in the Final Four in 2016.
Saturday, March 23rd 2019, 5:47 PM EDT
COLUMBIA, SC -
 The Virginia basketball team will square off against Oklahoma in the second round of the NCAA Tournament on Sunday.
The Cavaliers have a veteran group.  They've won 84 games over the last three seasons, and they'll be looking to advance to the Sweet Sixteen for the first time since 2016.
The Sooners boast their own postseason excellence.  This year's senior class was part of a Final Four team three years ago.
Oklahoma senior guard Rashard Odomes says, "I think it'll help a lot, just having that experience under our belt, just knowing what it took to make it to that point.  This senior group, we're locked in, we're focused, and we want to play as long as we can."
"I've been in situations like this," adds senior Christian James.  "I know what it takes to get to the next level.  That's why I just try to lead my guys every day."
UVa freshman guard Kihei Clark says, "They've gone far in the tournament, so they probably have a little bit more experience, but we're still going to come out and play our game."
The Sooners may have the advantage in postseason experience, but conference play taught the Cavaliers how to prepare for a quick turnaround.
"In the ACC season, we've had Saturday and Monday games," says UVa junior forward Mamadi Diakite.  "It was hard for us, it was hard for us to play those days, but those days helped us to get ready for today."  
Clark adds, "We've had three of those this season, so we're kind of used to it, but we're just trying to recover, and get as much information on them as possible, and try to win tomorrow."
Sunday's game will feature contrasting styles.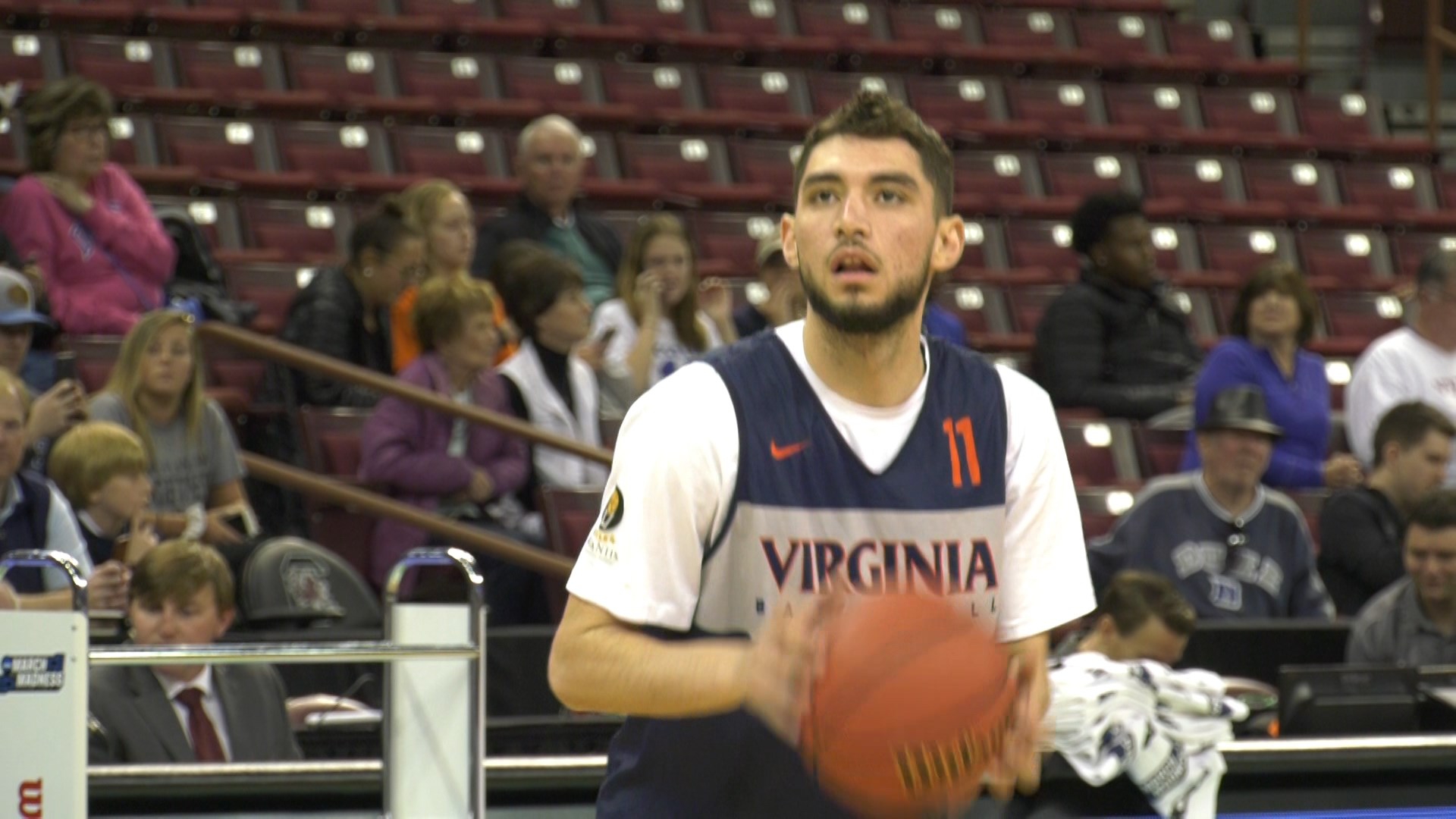 "They're really balanced," says junior guard Ty Jerome,  "Multiple guys score it.  Multiple guys post up.  They're a strong team, physical team, and they want to play a little fast, too."
OU sophomore forward Brady Manek says,  "Them slowing the ball down, it's how they want to play.  We need to try and speed them up, and play the way we want to play, and just do the best we can."
UVa head coach Tony Bennett says, "Scoring 95 points, and I think they only took 13 three's.  That shows you their efficiency, and how they run their actions,  Their Big's can back you down, and their guards can post you up and play.  It's going to be a war, in that regard."
As one of the top seeds in the tournament, the Cavaliers have a bulls-eye on their back.
"It's very exciting," says James.  "You see it in March, all the time.  We get the opportunity to go out there and take down a Number One seed.  We're going to be excited.  We're going to be ready to go, and there's going to be a lot of fire tomorrow."
Sooners' head coach Lon Kruger says, "That's the nature of tournament play.  When you're an 8 or 9-seed, that's the way it breaks down.  We're excited to be playing Virginia.  They're great at doing what they do.  They dictate to you based on how they want to play, and that's what they've been so effective doing, over time."
Virginia's second round game against Oklahoma will tip-off at approximately 7:45 PM on Sunday.