Sport
Virginia Overcomes 14-Point Deficit to Beat Gardner-Webb 71-56 in First Round of NCAA Tournament
The UVa basketball team overcame a 14-point first half deficit to beat Gardner-Webb 71-56.
Friday, March 22nd 2019, 5:19 PM EDT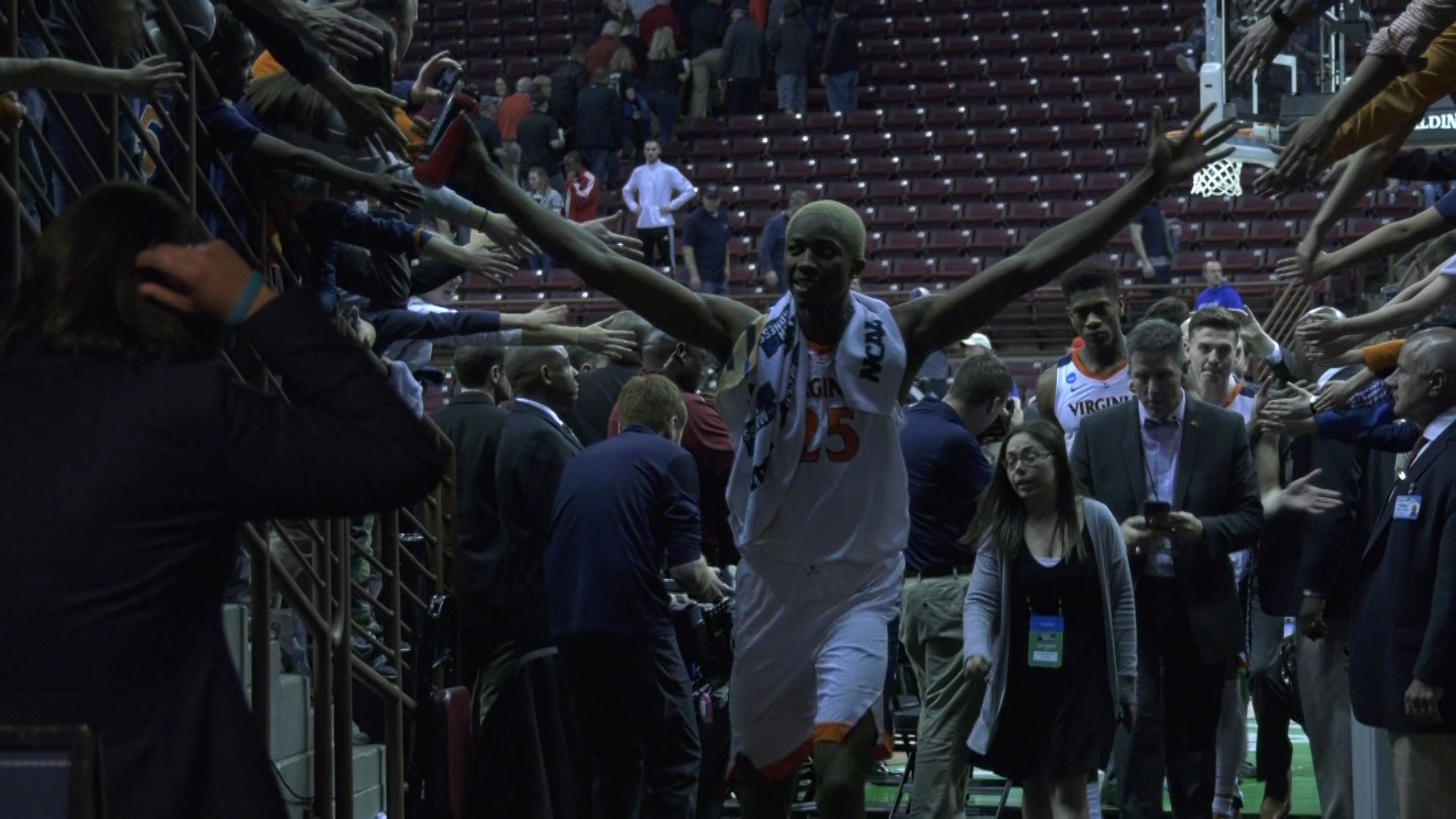 COLUMBIA, SC - The 1-seed Virginia basketball team dug itself a 14-point first half deficit but rallied to beat 16-seed Gardner-Webb Friday 71-56 in the first round of the NCAA Tournament.
The Cavaliers outscored Gardner-Webb 41-20 in the second half, opening the half on a 25-5 run.
Virginia fell behind 30-16 with 6:42 left in the first half.    Some members of the team had flashbacks to last year, when Virginia lost to 16-seed UMBC in the first round of the tournament.
"I personally thought about it a little bit," says UVa forward Mamadi Diakite.  "While I was in the game I looked up to the board and it was a 14 point lead. I didn't panic but I was feeling a little bit different about it. Once we got into the half we were able to lock in and come back in the second half."
"We just needed to calm down and get our bearings a little bit," says UVA forward Jay Huff.  "We talked it through, we knew what we needed to change especially on defense with some ball screen stuff. We never tried to get panicky."
Virginia's De'Andre Hunter scored 20 of his game-high 23 points in the second half.
Mamadi Diakite had 17 points and nine rebounds off the bench.
Ty Jerome was the only other Wahoo scoring in double figures with 13 points.
Virginia advances to face 9-seed Oklahoma on Sunday in the second round.  Oklahoma beat Ole Miss Friday 95-72.
Virginia (30-3) will play Oklahoma in the second round of the NCAA Tournament on Sunday
Virginia has 30 or more wins for the fifth time in school history
UVA improved to 2-0 all-time against Gardner-Webb
UVA is 31-0 all-time against current Big South members
UVA is 2-0 all-time at Colonial Life Arena
A De'Andre Hunter 3-point play at 16:16 of the second half game UVA its first lead at 39-38
UVA went on a 20-3 run over 6:37 of the second half
Gardner-Webb led 36-30 at the half
UVA improved to 4-3 when trailing at the half
Gardner-Webb's 14-point lead in the first half matched UVA's largest deficit of the year (Duke, 2/9/19)
UVA is 30-22 all-time in 23 NCAA Tournament appearances
UVA improved to 13-6 as a No. 1 seed in the NCAA Tournament
Virginia head coach Tony Bennett is 11-8 in eight NCAA tournaments, including an 8-6 record at UVA
Double-figure scorers: De'Andre Hunter (23), Mamadi Diakite (17), Ty Jerome (13)
Kyle Guy (8 points) moved into 29th on UVA's all-time scoring list with 1,245 points
Jerome (6 assists) moved into seventh on UVA's single-season assist list 172
Diakite had a career-high nine rebounds
Kihei Clark matched a career high with three steals
Hunter had his ninth 20-point game of the season (11 career)
Hunter, Clark, Jay Huff, Marco Anthony, Kody Stattmann, Jayden Nixon and Francisco Badocchi made their NCAA Tournament debuts