Sport
Cavaliers' Opponent Gardner-Webb Playing in First-Ever NCAA Tournament
The UVa basketball team will take on Gardner-Webb in the first round of the NCAA Tournament. The Runnin' Bulldogs will be making their first-ever appearance in the Big Dance.
Thursday, March 21st 2019, 6:58 PM EDT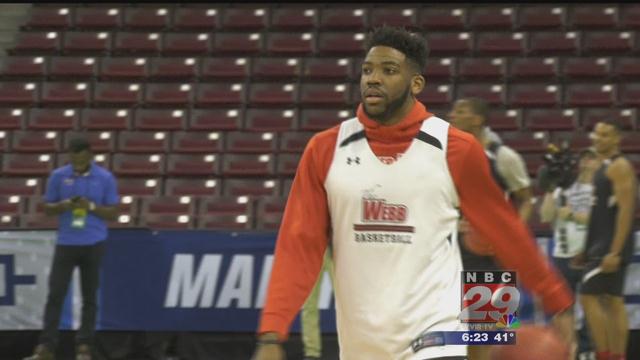 COLUMBIA, SC - The Virginia basketball team had an hour-long practice Thursday at Colonial Life Arena in Columbia, South Carolina preparing, for its first round game in the NCAA tournament.
The top-seeded Cavaliers will face 16-seed Gardner-Webb Friday at about 3 o'clock.
"You want to play free," says UVa junior guard Kyle Guy.  "You want to have a sense of joy and fun when you're playing the game. Also, when you step on the court it's business time. There's a level of focus we have to have and preparation today that we're looking forward to."
The Runnin' Bulldogs were staying loose with hooded sweatshirts on the practice court, and playing cards in the locker room.
"We're excited," says GWU sophomore point guard Jaheam Cornwall.  "We're eager to get out there on the floor, and ready to compete. March Madness, anything can happen. We're just here to make the best of it, and see how far we can get in this tournament.
Gardner-Webb will be making its first-ever appearance in the NCAA tournament.
"I've heard about (the tournament), as a kid," says GWU senior forward DJ Laster. "Always dreamed about it, but now that I'm here, it just feels good. We're not the biggest team, we're not the strongest team, but we just have that heart."
The Bulldogs know the history made by the Cavaliers in the 16 vs 1 matchup last season, but they're not focused on it.
Cornwall says, "Last year they lost to the #16 team. We're not worried about that.  We're worried about who we are, and what we can do to stop them from walking out of there with a win."
UVa junior guard Ty Jerome says, "Last year, we discussed it a lot. We use it as motivation.  It can take you to a place you've never been, if you use it the right way. It's more about doing what we do, playing with the same edge every single game that we've played with this year rather than we have to make up for last year and playing with anxiousness and anger."
"We're not UMBC, we're Gardner-Webb," says Laster.  "We're just going to go out there and play the same way we play, and be able to compete with them, and play at the highest level."
Gardner-Webb has played at the highest level this season, going 2-1 against teams from the ACC in non-conference play.
GWU senior guard David Efianayi says, "It just gives us confidence that we can go out there and compete and get the 'W' if we play together."

Cornwall adds, "Our confidence comes from the beginning of the season, getting two ACC wins, battling against those high major teams, and coming out with a win, and sticking together through tough crowds. Places like this, that can get really loud."
It might be getting loud in Gardner-Webb's favor. Their campus is located just two-hours away in Boiling Springs, North Carolina, making it an easy trip for Bulldog fans.
Efianayi says, "They're the reason why we were undefeated at home. The community is for sure going to be out there celebrating for us. They'll just give us the extra energy to compete at the highest level."
Virginia and Gardner-Webb are scheduled to tip-off about 3 o'clock Friday in the NCAA tournament.