Sport
Virginia Softball Tops Georgia Tech in a 7-1 Win
Freshman Tori Gilbert hit her first career home run to spark Virginia to a 7-1 victory over Georgia Tech in the series finale.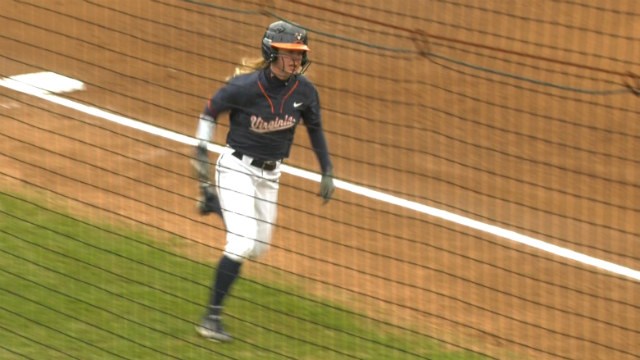 University of Virginia Media Release 
Senior Lacy Smith (Lancaster, Pa.) finished a perfect 4-for-4 at the plate and launched her 11th home run of the season to lead the Cavaliers. Smith extended her hitting streak to 15 games and set a new career high with her 29th RBI of the season.
Graduate student Allyson Frei (Branchville, N.J.) tossed a complete game, surrendering just a single run while scattering six hits to improve to 5-6 on the year. She struck out four in the outing.

KEY INNING
Virginia got off to a quick start by hanging three runs on the board in the top of the second. Erika Osherow (Darien, Conn.) worked a lead-off walk before a single from Abigail Barber (Providence Forge, Va.) put two aboard. Gilbert plated all three runs with her two-out blast to left center.

TOUCHING HOME
• Gilbert jumped on the first pitch she saw for the three-run home run to put Virginia on the board first in the top of the second.
Ashlee Davis (Gilbert, Ariz.) lifted a sacrifice fly to the wall in the top of the third and Osherow later scored on an obstruction call at the plate to make it 5-0 Cavaliers.
Smith added to the Virginia lead with her solo home run in the fourth, tagging the top of the scoreboard in left center.
Georgia Tech pulled one run back in the fifth inning on a bases-loaded groundout from Crosby Huckabay.
Donna Freidman (Orange, Calif.) and Osherow drove back-to-back doubles in the seventh to add an insurance run for the 7-1 lead.

ON THE LINES
• Smith's 4-for-4 performance matches her career high for hits in a game, set earlier this season.
Gilbert became the ninth Cavalier to homer this season.
Friedman finished 2-for-3 at the plate, her best ACC performance thus far.
Osherow also finished 2-for-3 and added her 12th RBI of the season.
With the victory, Virginia eclipsed its 2018 total for ACC wins.

UP NEXT
Virginia concludes its six-game road trip with a Tuesday (March 19) trek to Maryland.