Sport
Top-Seed UVa Beats NC State 76-56 in ACC Tournament Quarterfinals
Kyle Guy scored a game-high 29 points, while Jack Salt added a career-best 18 points, and the UVa men's basketball team beat NC State 76-56 in the ACC Tournament Quarterfinals on Thursday in Charlotte, NC.
Thursday, March 14th 2019, 2:53 PM EDT
CHARLOTTE, N.C, (WVIR) - The #2 Virginia men's basketball team used a strong second half to come-from-behind and defeat NC State 76-56 in the quarterfinals of the ACC Tournament on Thursday in Charlotte, NC.
The Cavaliers trailed the Wolfpack 29-27 at halftime, but they took the lead on a Jack Salt layup with 14:57 remaining in the 2nd half, and never trailed again.
Salt scored a career-high 18 points for UVa, while also grabbing six rebounds.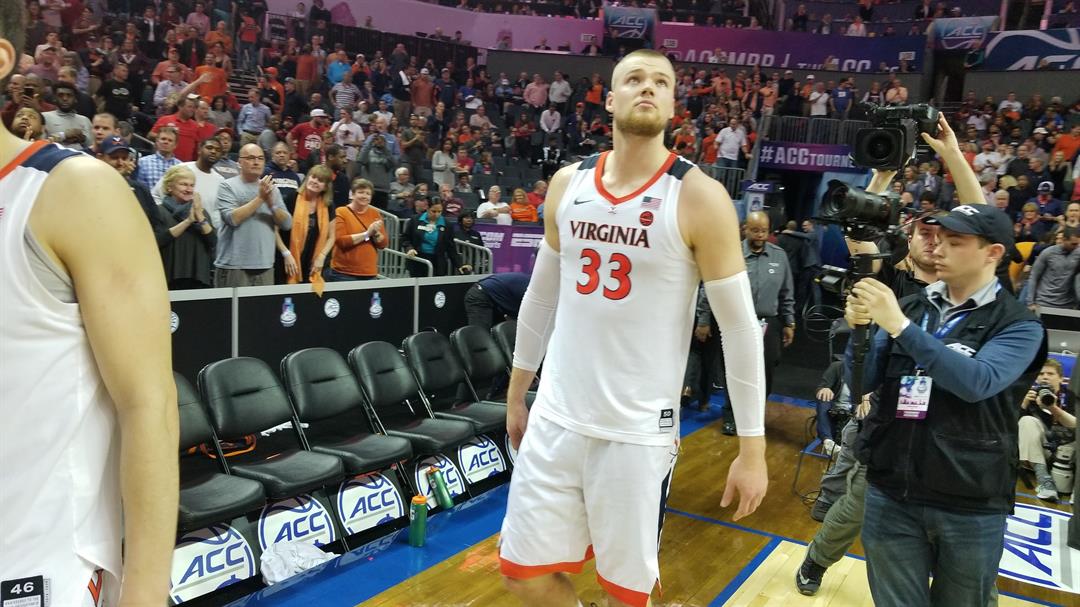 "My teammates found me open under the rim, when my guy was extending, or helping off the curls," says Salt.  "It feels awesome. However I can help this team, I'm happy. To give them an offensive boost today was a pretty surreal experience."
De'Andre Hunter adds, "He was making his free throws, he was making his layups. He was just playing all-around great for us. It's big when a guy like that can come out and score (18 points). That's big for us."
Kyle Guy scored a game-high 29 points, and hit 7-of-9 shots from three-point range.
"I never really feel 'In the Zone,'" says Guy.  "I just always feel confident in my shot. I just kept shooting, and they kept finding me."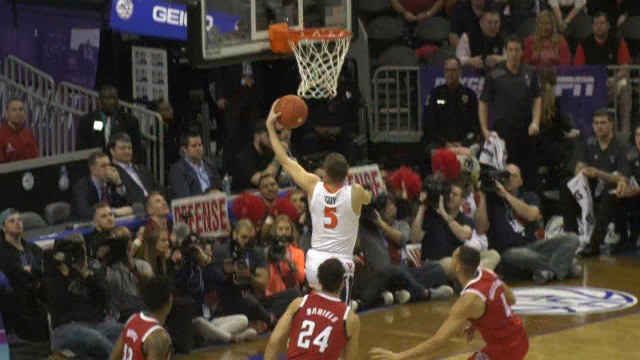 Ty Jerome says, "I'm almost used to it, at this point. I have so much faith in him, that he's going to make shots. If I see his defender leaving for a second, I just try to put it in his pocket, and he did a great job making shots."
Head coach Tony Bennett says, "These two guys were terrific today. I even joked with the guys, 'I think I'm going to do a 'Haka' in the locker room, the way Jack played. It looked like he was moving well, and defending well, and we needed his physicality. I've probably been holding him back from scoring, and he's showing it now that we're getting into the postseason."
De'Andre Hunter chipped in 16 points, while Ty Jerome dished out ten assists.
Top-seed Virginia will play 4-seed Florida State in the semifinals on Friday at 7pm in Charlotte, after the Seminoles beat Virginia Tech 65-63 in overtime.
All of the games in the ACC Tournament can be seen on NBC 29.