News
Albemarle County Water Rescue
A family of four had to be rescued after their SUV was swept into a creek Thursday morning in Albemarle County.
Thursday, November 19th 2009, 9:42 AM EST
A family of four was inside an SUV that got swept off Burch's Creek Road in Albemarle County Thursday morning.  They were trying to cross a ford that's normally an easy drive but this time, it wasn't.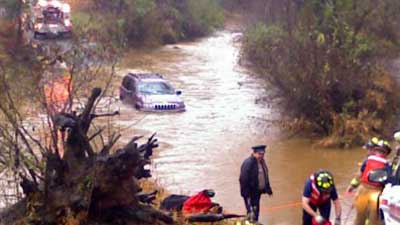 What started as an ordinary ride home for Matthew Birdsall, his wife, and their two young children, turned into more than an hour and a half sitting in the middle of Burch's Creek. Blame it on the heavy rain that fell overnight, Burch's Creek in Crozet was higher and moving faster than normal Thursday morning. 
Birdsall said, "Just stuck the front end in just to see how bad it was, and that was all it took."    
Matthew Birdsall says it wasn't long before they were in the middle of the creek, thanks to the current.
Matthew said, "With it already being in drive and everything it just continued to pull it out into the creek a little bit farther."   
Rescue workers say it's not the first time they've had to rescue someone from there.
Crozet Fire Department Assistant Chief Pete Oprandy said, "Unfortunately, this is one spot in the county where in a heavy rain, and pretty well certain somebody is gonna end up in here.  It's just the way the road is designed and some people, if they're not familiar with it, get in there when they shouldn't."    
Oprandy says the Birdsall's were lucky, and that their accident could have been worse, especially had they tried to save themselves. He adds that people can learn from this. 
Oprandy said, "It's extremely dangerous and people have to be aware of it any time they're crossing water it's better to turn around and do not cross it.  It's just not safe.  It's not safe practice anywhere."    
Now that things have died down, the Birdsall's plan to keep their normal routine, albeit maybe not in the rain. 
Matthew said, "There's different ways to go, but not as fun for the kids."
The family was never in grave danger, but of course it's always good to be cautious in these situations.
Oprandy said that this is a good reminder that just because a vehicle has four wheel drives, it doesn't mean it works better in deep water than others, after all, they're not boats.