Massanutten Water Park Toy Drive returns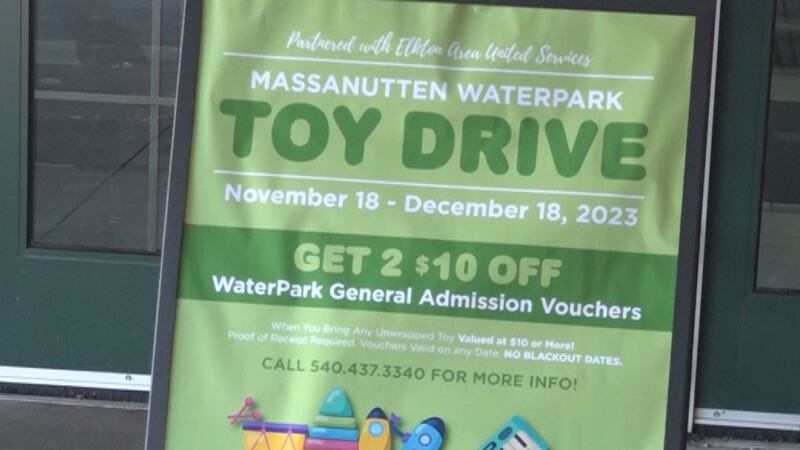 Published: Nov. 20, 2023 at 12:51 AM EST
|
Updated: Nov. 20, 2023 at 7:48 PM EST
HARRISONBURG, Va. (WHSV) - The holiday toy drive at the Massanutten Water Park returned to Harrisonburg the weekend of November 18th. It is an annual affair where there is a gift for everyone in the toy donation.
"When you give a $10 gift that's unopened and unwrapped," Massanutten Water Park operations manager George Salcedo said, "You will receive two vouchers that give you $10 off a general mission ticket to the water park. They can be used anytime next year with no blackout dates."
The water park staff was inspired to give back to children in need.
"When I see a little kid walk up to the water park and throw his eyes and his mouth open for the first time," said Salcedo, "It's the same with a child that gets to open a gift on Christmas morning that wasn't expecting one. They're going to be surprised; their face is going to be filled to joy, and that's beauty."
The holiday toy drive helps Elkton Area United Services every year. Elkton Area United Services is a comprehensive social service agency serving eastern Rockingham County since 1972. The organization provides assistance with housing, electricity, heat, food, GED classes, school supplies, books, aid to stranded travelers, senior citizen activities and a joyful holiday season to those in need.
Organizers hope to put presents under as many Christmas trees as possible.
"We have done as many as 600 before. Last year, we did over 400, so anywhere between those two numbers would be fantastic," said Salcedo, "Anything we get will be even better."
The Massanutten Water Park Holiday Toy Drive ends on December 18th. Anyone can participate by donating gifts for kids at the front desk.
Copyright 2023 WHSV. All rights reserved.