UVA basketball gets balanced scoring in 29-point win over North Carolina A&T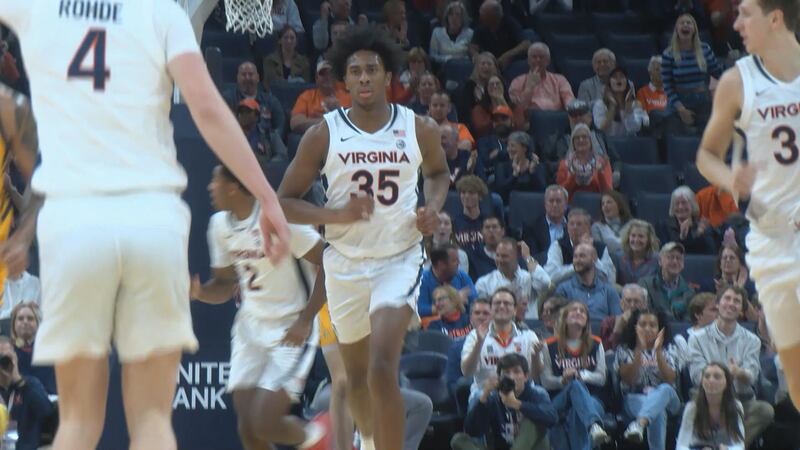 Published: Nov. 14, 2023 at 11:49 PM EST
CHARLOTTESVILLE, Va. (WVIR) - The UVa basketball team got a team-high 16 points from Leon Bond III and a double-double from Ryan Dunn in beating NC A&T Tuesday night at JPJ 80-51.
Virginia led by 30 at halftime. Ryan Dunn had 13 points and 11 rebounds. Oklahoma transfer Jake Groves made both of his 3-pointers and had 11 points off the bench.
"That's something we focused on all week, is not really playing down to the level of competition" said Groves. "Taking every opponent seriously and in respecting them, knowing that they're a good team. You know, it's college basketball. Anyone can beat anyone on any night. So just taking every game seriously, not messing around, keeping laser-like focus. Our guys went out there and made it happen."
Here are some notes from a UVA basketball media release:
Team Notes
• UVA is 168-50 in non-conference action under Tony Bennett.
• UVA is 160-11 when scoring 70 or more points under Bennett (3-0 in 2023-24)
• The Cavaliers have started 3-0 for the second straight season (7-0 in 2022-23)
• Virginia shot a season-high 54.4 percent from the field
• UVA shot 18 of 26 (64.3%) en route to a 49-19 lead at the half
• The 30-point halftime lead was UVA's largest since leading St. Francis (Pa.) 45-13 at the half on Dec. 1, 2020
• UVA went on a 18-2 run to gain an 26-8 lead
• UVA forced one shot clock violation
Series Notes
• Virginia is 2-0 all-time against North Carolina A&T in a series that dates to 1994.
Player Notes
• Double Figure Scorers: Leon Bond III (16), Ryan Dunn (13), Jake Groves (11)
• Bond had a season-high 16 points
• Bond reached double figures for the second time
• Dunn reached double figures for the third time, tying a career best with 13 points
• Dunn added a career-high 11 rebounds for his first career double-double
• Dunn added two steals and three blocked shots
• Groves reached double figures for the second time at UVA
• Groves matched a career-best with nine rebounds
• Bryce Walker made his collegiate debut
• Dante Harris had a career-best two blocked shots
• Blake Buchanan made his first career start
Do you have a story idea? Send us your news tip here.
Copyright 2023 WVIR. All rights reserved.