UVA quarterbacks prepare for Saturday and beyond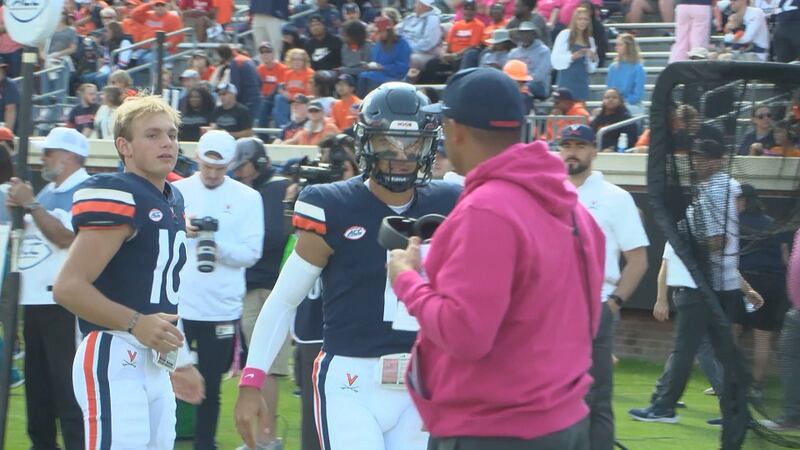 Published: Oct. 18, 2023 at 4:23 PM EDT
CHARLOTTESVILLE, Va. (WVIR) - The University of Virginia Football Team is coming off a bye week after winning its first game of the season against William & Mary.
The Cavaliers have six games remaining.
The second half of the regular season starts Saturday, October 21, and it isn't an easy stretch. UVA will face three ranked opponents, starting this weekend with 10th ranked North Carolina in Chapel Hill.
Quarterback Tony Muskett says his shoulder feels better now after suffering an injury during the season opener. He has been playing through the pain during these last couple games, and delivered two beautiful touchdown passes in Virginia's win over the Tribe, as well as ran for another.
"We knew going in that we were right there in the previous five games, we just need to get that one play or that one stop or that one touchdown to put us over the edge. We finally put it all together," Muskett said.
It is important the Cavaliers keep Muskett healthy. The quarterback says the bye week helped give his shoulder more time to heal and prepare for this weekend.
"Got to play clean. Getting through my reads quickly, getting the ball out quickly to Malik or Malachi, being precise in my decisions," Muskett said.
Anthony Colandrea has already played in four games, but coaches want to keep him on the sideline with hopes of redshirting him.
Colandrea says he wants to be part of the program's future.
Right now, the team's main focus is winning this game.
"It's very realistic that we can go 7-5 and win six straight to finish the year. I believe we can do it," Muskett said. "It's just a matter of going out and executing and getting it done."
Do you have a story idea? Send us your news tip here.
Copyright 2023 WVIR. All rights reserved.