City Manager presents plan to address homelessness to Charlottesville City Council
Published: Oct. 3, 2023 at 6:10 AM EDT
CHARLOTTESVILLE, Va. (WVIR) - The main talking point during Charlottesville's City Council meeting Monday, October 2, wasn't even on the agenda.
Councilors say they have received hundreds of emails over the past few days about tents being set up in Market Street Park, and asking them to reinstate the curfew.
Mayor Lloyd Snook added that he estimates half of the emails he received came from non-Charlottesville residents.
City Manager Sam Sanders took the podium at the meeting to share his reasoning behind the decision to lift the curfew and the plans moving forward: "The intention was to ensure that I could make sure that our police department and the unhoused population did not have any further negative interactions, because I thought that was important. I wanted to give the Chief the space that he needed to do the investigation, and he did. Now that it's done it is time for us to figure some things out," he said.
After Sanders decided to lift the curfew in the park, he says he's received a lot of backlash, but he says bringing back the curfew won't fix homelessness.
"I can't accept that the desire to transfer a problem is the right way to go. We need to solve the problem," Sanders said before his presentation. He also added that his decision was not rash or made under duress.
His short-term actions include working to speed up the start of PACEM, a shelter that typically runs during the winter months. Sanders recommended to the council that they fund an earlier start date.
In the long term, he wants Charlottesville to establish a shelter that's open 24 hours a day, 365 days a year.
"We're trying to figure out what is the best way to do it with dignity and to make sure that the individuals land in a better place, that's the point of any effort that we should undertake," Sanders said.
The majority of people who spoke at the meeting Monday night were in support of the City Manager's decision and urged councilors to do more to decriminalize homelessness and make more resources available.
"Instead of making an enemy out of somebody who is suffering, we need to make an enemy of the conditions that cause people to suffer," one UVA student said.
Another speaker said they worked at The Haven, a day shelter in Charlottesville, and were 'sickened' by the rhetoric surrounding the unhoused.
"We really need to take a deeper look into it, the reasons why people are feeling the need to have so much say in where someone rests, or how they experience life and in public, when they don't have homes to experience those things privately," they said.
But a handful of people disagreed, saying police need to do more to control the situation.
"When an individual is on the mall, screaming obscenities, throwing trash, and generally making the area a terrible place for anyone else to be, there is no response from our government," Matthew Hall said.
RELATED:
A slide from Sanders' presentation is below: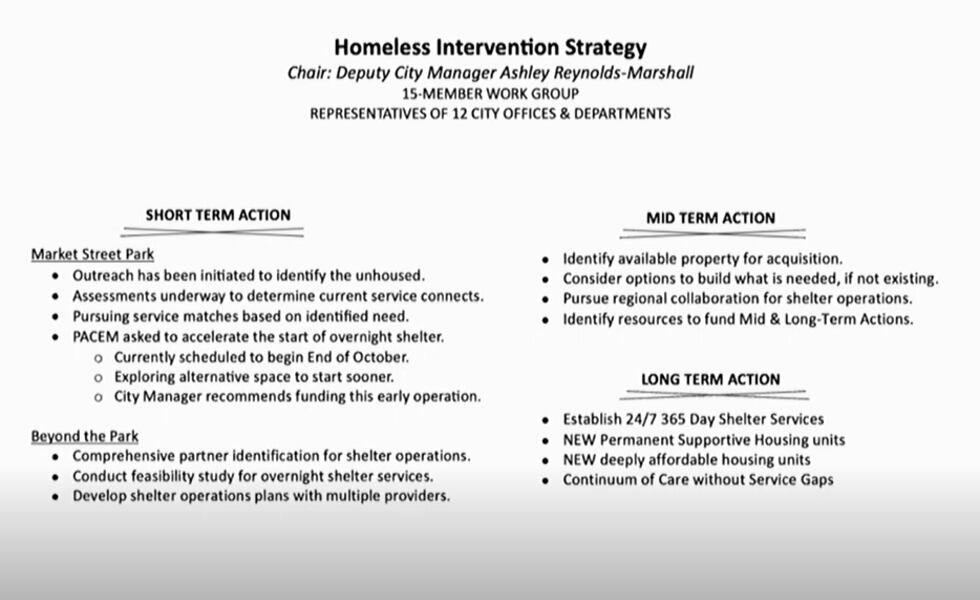 Do you have a story idea? Send us your news tip here.
Copyright 2023 WVIR. All rights reserved.