Brennan Armstrong leads NC State to 24-21 win over Virginia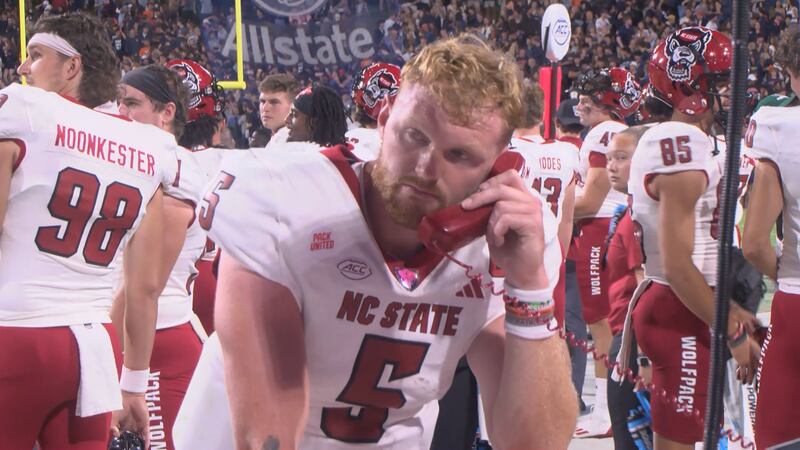 Published: Sep. 23, 2023 at 1:56 AM EDT
CHARLOTTESVILLE, Va. (WVIR) - NC State quarterback Brennan Armstrong rushed for a team-high 64 yards and threw two touchdown passes to Kevin Concepcion leading the Wolfpack to a 24-21 win over Virginia Friday night at Scott Stadium.
NC State kicker, Brayden Narveson booted a 33-yard field goal as time expired giving the Wolfpack the win. Virginia tied the game at 21 with 36 seconds left when Virginia got a touchdown pass from freshman quarterback Anthony Colandrea to Malik Washington then converted the two-point conversion.
Colandrea threw for 271 yards and two touchdowns, but he also threw two fourth quarter interceptions.
"He's a competitor. I think we all know that he's gonna compete, and he's still a young guy and believes he can make every single play", said UVA head coach Tony Elliott. "He's gonna have to grow through that and hopefully the learning curve happens fast. But the kid is just trying to make a play, and it's our job as coaches to teach him and coach him not to, in critical situations, not to put the ball in jeopardy. Because you put the ball in jeopardy versus a good football team, they're gonna take it away from you."
The loss for Virginia drops the Cavaliers to 0-4 for the first time since 1982, George Welsh's first season as head coach. NC State improves to 3-1.
Do you have a story idea? Send us your news tip here.
Copyright 2023 WVIR. All rights reserved.