Cavaliers facing off against Wolfpack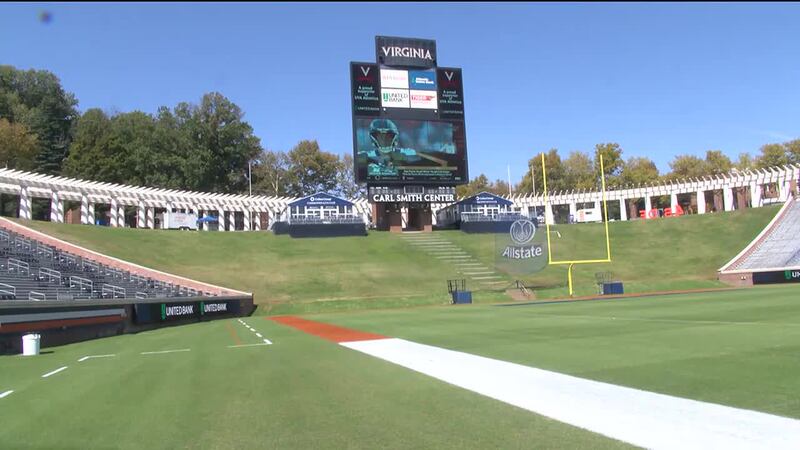 Published: Sep. 22, 2023 at 5:04 PM EDT
CHARLOTTESVILLE, Va. (WVIR) - The UVA Football Team has a Friday night game for the second straight week.
The Cavaliers are hosting the Wolfpack in the ACC opener for both teams. Tonight's game is the first time in three years these two teams have battled.
NC State has won two of its first three games this season with grad student quarterback Brennan Armstrong, who was here at UVA for five years before transferring.
UVA is still looking for its first win, and we may not know who the Cavalier starting quarterback will be until game time: Senior quarterback Tony Muskett hasn't played since suffering a shoulder injury in the season opener at Tennessee. He was in uniform at Virginia's game last week against Maryland.
Coach Tony Elliott says he is trying to manage Muskett's long-term health.
Freshman Anthony Colandrea has led the Cavaliers to double-digit leads in the last two games, but also threw three 4th quarter interceptions against Maryland. He's learning and growing on the job.
"You can see him sit in the pocket. I think everyone is getting to see how poised he can be. He's got a ton of confidence. Now we have to help him manage that confidence," Coach Elliott said.
On the other side is Brennan Armstrong, who started three seasons at UVA and holds 15 school records.
"My job is to go win a game and keep my mind on that. Keep it simple," Armstrong said. "I think the game is going to be won in the trenches. That's how it's going to be up front.
"The biggest thing that stands out about them is they play really hard. They view themselves as one of the best teams in the ACC. To beat a team like that you have to bring it from the jump. Our big thing is starting off strong, maintaining that pressure, and edge the whole game," Jonas Sanker said.
Kickoff is at 7:30 p.m.
RELATED: Brennan Armstrong leads Wolfpack in return to UVA Friday
Do you have a story idea? Send us your news tip here.
Copyright 2023 WVIR. All rights reserved.