Brennan Armstrong leads Wolfpack in return to UVA Friday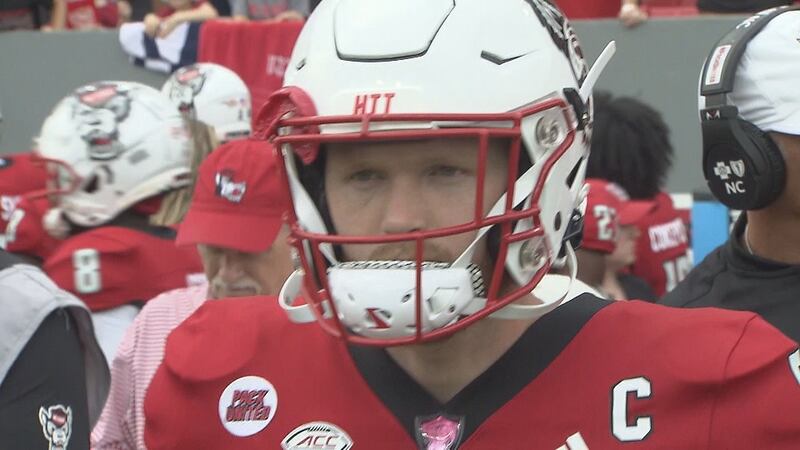 Published: Sep. 20, 2023 at 2:58 PM EDT
CHARLOTTESVILLE, Va. (WVIR) - For the second straight week, the UVA Football team has a Friday night game: The Cavaliers will be facing the Wolfpack at Scott Stadium on September 22 in the ACC opener for both teams.
The 'Hoos will be facing their former teammate, quarterback Brennan Armstrong.
"I'm looking forward to it, I'm super excited. It's going to be a unique experience for me," Armstrong said. "At the end of the day it's about going out and winning the game."
Armstrong says his preparation for Friday's game is just like any other. He still keeps in contact with many of his former-UVA teammates, but there has been no communication this week.
"You compete with them in practice," Armstrong said. "In practice, they never got to hit me so this is their turn to try to get a piece of me."
"At the end of the day, we know him but he knows our coaches, as well. I wouldn't look at who has the advantage," Jonas Sanker said. "It'll come down to who can be more disciplined in the moment."
Armstrong spent five seasons at UVA, the final three of which as the starting quarterback. He is Virginia's all-time leading passer, setting several school records in 2021.
Armstrong reunited with Robert Anae, his former coordinator at UVA, when he transferred to NC State.
UVA Head Coach Tony Elliott says there's no bad blood.
"He made an effort to help me and this coaching staff," Coach Elliott said.
The Wolfpack has a record of 2-1. Armstrong has had mixed results this season, throwing three interceptions in NC State's loss to Notre Dame. He is also the team's leading rusher, with 161 yards and three touchdowns.
Armstrong says he isn't sure what kind of reception he'll get from the fans at Scott Stadium.
"I put blood, sweat, and tears into that place for five years. Hopefully, they're not too hard on me. If they are, it's no big deal, I'll be ready for it," he said.
The Cavaliers are still looking for their first victory.
Kickoff Friday is at 7:30 p.m.
Do you have a story idea? Send us your news tip here.
Copyright 2023 WVIR. All rights reserved.