Rockingham County Fair's livestock shows highlight agriculture's value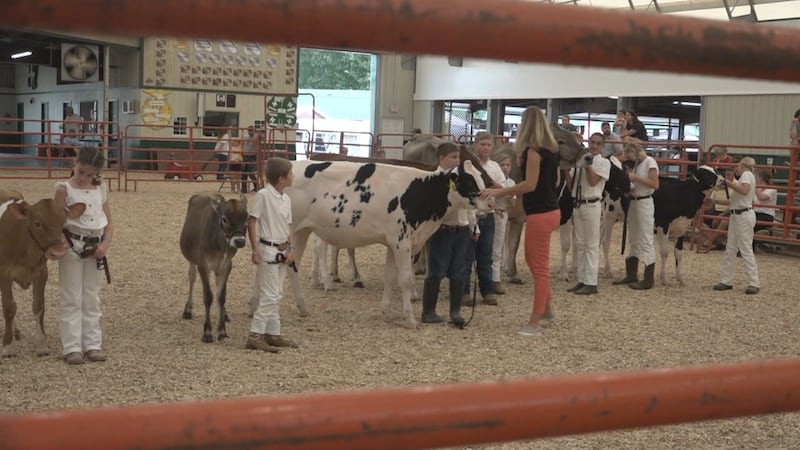 Published: Aug. 15, 2023 at 11:41 PM EDT
HARRISONBURG, Va. (WHSV) - Agriculture is a pillar of the community through industries like dairy and meat. People believe the annual county fair would not fully represent Rockingham County without it.
"This is a big part of the Rockingham County Fair. It's something that drew me, actually, to the county to move here and then to come in here and show a heifer and everything, it's just it's something that I'm excited to be the same without it," Volunteer Cow Presenter Keely Hinkle said.
The shows bring out competition for farmers in training, but a checkup on how the cows and goats can make food people eat. A better goat product can be found in their muscles.
"You don't want them to be too lean because then they won't have as much meat. You want a goat that has good body fat to muscle ratio," Future Farmers of America Member Mailee Findley said.
Findley is also a member of the Creative Chefs 4-H Club.
Qualities that get scored for the multiple divisions are told to carry over to what's stocked on grocery shelves later. Dairy cows have to be as clean as possible.
"They like an udder that is very full, clean, and high — not sagging to the ground that you might see in a beef cow. They like them to be able to be big, producing a lot of milk, because that is what's bringing in the money," Stoney Run Farm's Esther Brown said.
Multiple farmers attest that raising any kind of animal has work behind the scenes that leads to the ring. Success in the agriculture industry comes from doing whatever it takes and putting in the time and effort.
"Patience is key to really getting to the point where your animal is that it's most top best that they can be," Singers Glen 4-H Club Member Elizabeth Smith said.
The competitions are possible with current farmers helping 4-H clubs, showing that agriculture is here to stay in the Shenandoah Valley.
The livestock schedule is going on for the remainder of the Rockingham County Fair:
Wednesday
9:00 a.m — Market Steer Show Ring A, Sponsored by Shenandoah Valley Electric Cooperative
10:00 a.m. —2023 Open & Jr. Breeding Sheep Show, sponsored by Rockingham Co-Op
5:00 p.m. — Market Hog Show Ring A
Thursday
9:00 a.m. — The Junior Livestock Show in Ring A, sponsored by Rockingham Cooperative
10.00 a.m. —Rockingham County Fair Open Boer Goat Show in Ring B
6:00 p.m. — Master Showmanship Ring B, sponsored by Farmer Focus
6:30 p.m. —Dairy Peewee Show Ring A, sponsored by Cattlemen's Supply
Friday
11:00 a.m. — 4-H & FFA Livestock Sale Steers, Goats, Hogs, Lambs and Dairy Steer
Saturday
10:00 a.m. — Rockingham County Fair Dairy Goat Show (Saturday, Aug.19 at 10:00 A.M.), sponsored by Profence
Copyright 2023 WHSV. All rights reserved.