Who's Next Barbershop steps up with free back-to-school items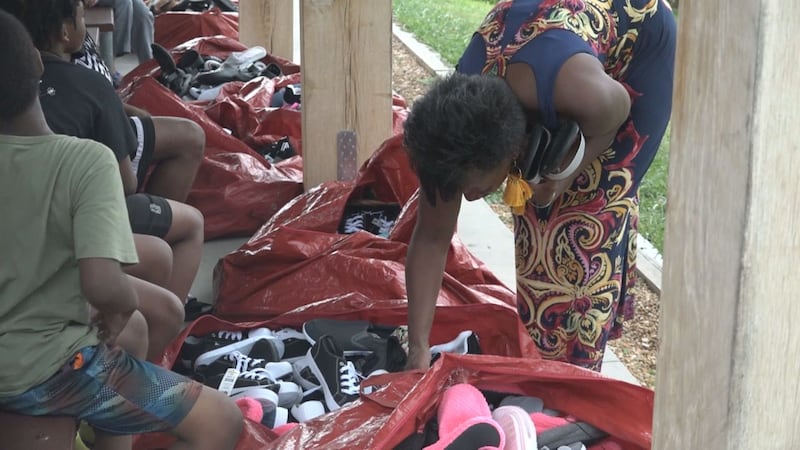 Published: Aug. 6, 2023 at 7:06 PM EDT
STAUNTON, Va. (WHSV) - A community squad took Sunday afternoon to help kids get ready to start the school year off right.
Who's Next Barbershop of Waynesboro leveled up on the back-to-school giveaway for its third year. The team gives out free haircuts for back-to-school weekend but wanted to take it up a notch by handing out brand-new backpacks and shoes.
The barbers and hairdressers' efforts resulted in 115 boys and girls having new items for the first day back to school on Wednesday. Donations from the entire year helped with a balance.
The barbershop's owner, Jason Wells, said he and his community are all in this together when it comes to taking care of the kids.
"My team's going to be ready to start getting backpacks and stuff for next year already, soon as this week is over. We'll probably drop a couple off at the mission to make sure the kids over there just have what they need to get back to school on the first day. For years to come, this is our thing to do before kids go back to school," Wells said.
The idea was for families to have a good time outside together before school started. Free haircuts are ideal to be put back in the mix for future years, according to Wells.
The Who's Next Barbershop Crew does not want anyone to be left out. Anyone who missed out on the cookout event is encouraged to contact the team to grab one of the leftovers at the shop at 2296 Jefferson Highway during the following business hours:
Tuesday- Friday 8:30 AM - 5:00 PM
Saturday 8:30 AM - 3:00 PM
Copyright 2023 WHSV. All rights reserved.