Practicing agility matters for dogs' overall health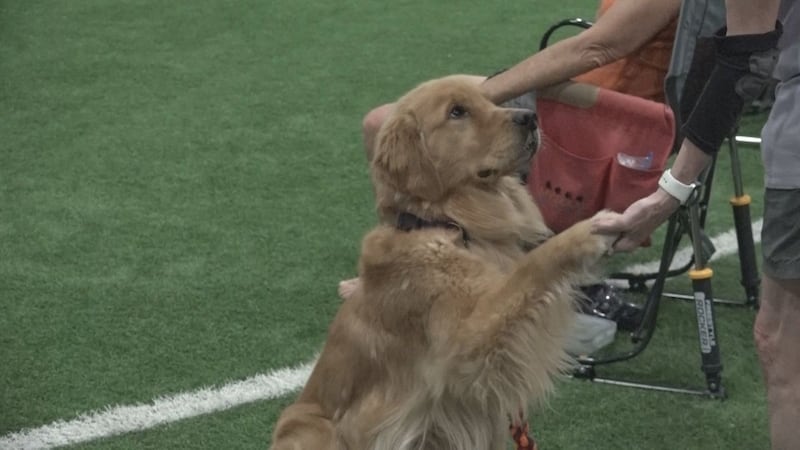 Published: Jul. 23, 2023 at 8:37 PM EDT
|
Updated: Jul. 24, 2023 at 6:12 AM EDT
HARRISONBURG, Va. (WHSV) - The Shenandoah Valley Kennel Club wrapped up a weekend of agility trials at Horizon's Edge. The obstacle course took dogs through challenges like hoops, tunnels, and bridges requiring them to pay attention to get the job done.
Dog owners and trainers recommend pets working on this skill for its effects on overall health.
"Dogs love to have a job and they all need a job, and this is a fun job. They enjoy it. They have a great time and then they get rewarded so it's good for everybody. We get some physical fitness we need to have fun we get to build a beautiful relationship with our dogs," Terrier Mom Toni Whitfield said.
The Shenandoah Valley Kennel Club confirmed things like vitamins, getting massages, and diet all impact agility.
The effort to keep this skill for dogs intact makes them best in the show and in life.
"Once you're starting, you need to start practicing practically every day, and then maybe at least once a week. Competitions could be every single weekend, if you look hard enough and wanted to spend all your money, and you could have some fun too," Whitfield said.
The Shenandoah Valley Kennel Club has been going on since 1964. The current group hopes the people of this generation and beyond get involved to carry on the lessons and legacy.
Copyright 2023 WHSV. All rights reserved.