Watching next storm risk
Brief drying trend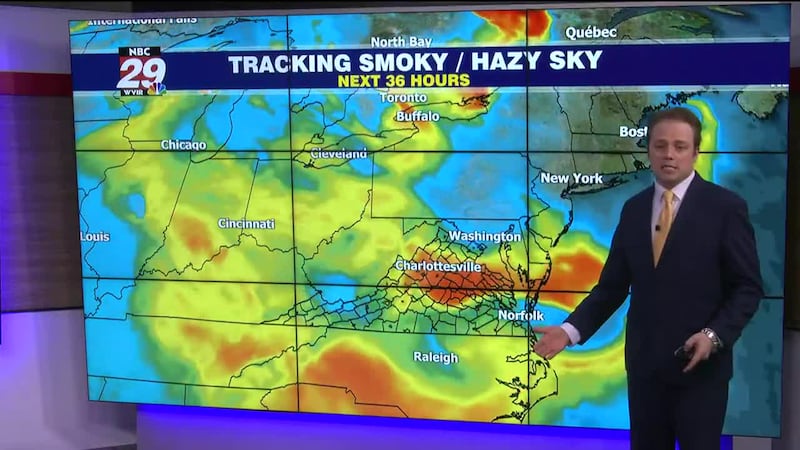 Published: Jun. 27, 2023 at 9:51 AM EDT
|
Updated: Jun. 27, 2023 at 4:32 PM EDT
CHARLOTTESVILLE, Va. (WVIR) - After the stormiest day of the year, so far, on Monday, today will feature a scattered shower and thunderstorm.
Not expecting severe weather in our region. It'll be less hot this Tuesday afternoon. However, still humid. Any shower or downpour will fade away this evening.
Less humid Wednesday and Thursday. Some upper-level smoke and haze will make a comeback Wednesday and Thursday as the wind turns to the northwest. This will bring back some smoke from Canadian wildfires. Very little impact to air quality.
Hotter and increasingly muggier Friday and through the first weekend of July ahead. A mainly afternoon and evening pop-up shower and thunderstorm will be around.
Keep checking back here and to the NBC29 Storm Team Weather app for interactive Doppler radar and forecast updates.
Tuesday afternoon: Partly sunny. A scattered shower and thunderstorm developing through this evening. Highs upper 70s to lower 80s.
Tuesday overnight: Partly cloudy, patchy fog, lows in the upper 50s to lower 60s.
Wednesday and Thursday: Mostly sunny, drier, high sunburn or UV index. High temperatures in the mid to upper 80s. Overnight lows in the upper 50s to mid 60s.
Friday, Saturday, Sunday, Monday: Partly sunny, hotter and more humid. A scattered shower and thunderstorm possible in the afternoon and evening especially. Highs 85 to 90 degrees. Lows 65 to 70 degrees.
Do you have a story idea? Send us your news tip here.
Copyright 2023 WVIR. All rights reserved.