Brick-by-brick: LEGO breaks ground on facility in Chesterfield
The facility at Meadowville Technology Park will be LEGO's first manufacturing facility in the U.S.
Published: Apr. 13, 2023 at 10:14 AM EDT
|
Updated: Apr. 13, 2023 at 7:02 PM EDT
CHESTERFIELD, Va. (WWBT) - On Thursday morning, Gov. Glenn Youngkin and LEGO leaders broke ground on LEGO'S new manufacturing facility in Chesterfield.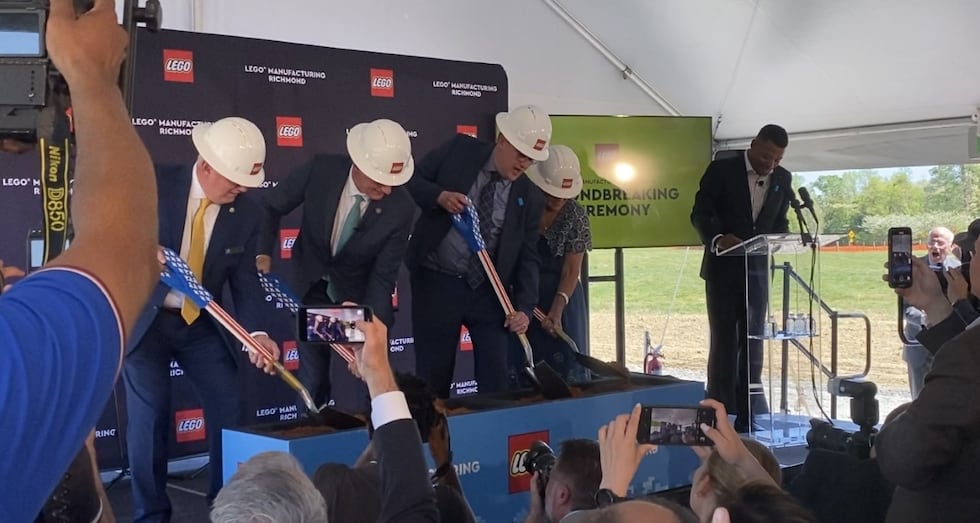 The facility will be built at the Meadowville Technology Park alongside an Amazon fulfillment center and a Capital One data center.
"We will see the spirit of Virginia further breathe life into this facility, and that facility will build the tools, inspire the imagination and we will hear that click over and over again that kids love," said Youngkin during the groundbreaking ceremony.
LEGO expects to spend $1 billion building the facility at the Meadowville Technology Park and plans to have it up and running in two years, creating roughly 1,800 new jobs.
"The siting here will allow us access, first and foremost, to extremely high skilled talented workforce," said Skip Kodak, LEGO Regional President for the Americas. "It will enable us to be much more resilient from a global supply chain perspective because we'll be expanding the range of our network into additional countries. In addition to Richmond, we're also expanding with a new facility in Vietnam."
Inside a welcome center shaped like a LEGO brick, there are more details about the project, including a scale model of the future facility made with more than 34,000 LEGO bricks.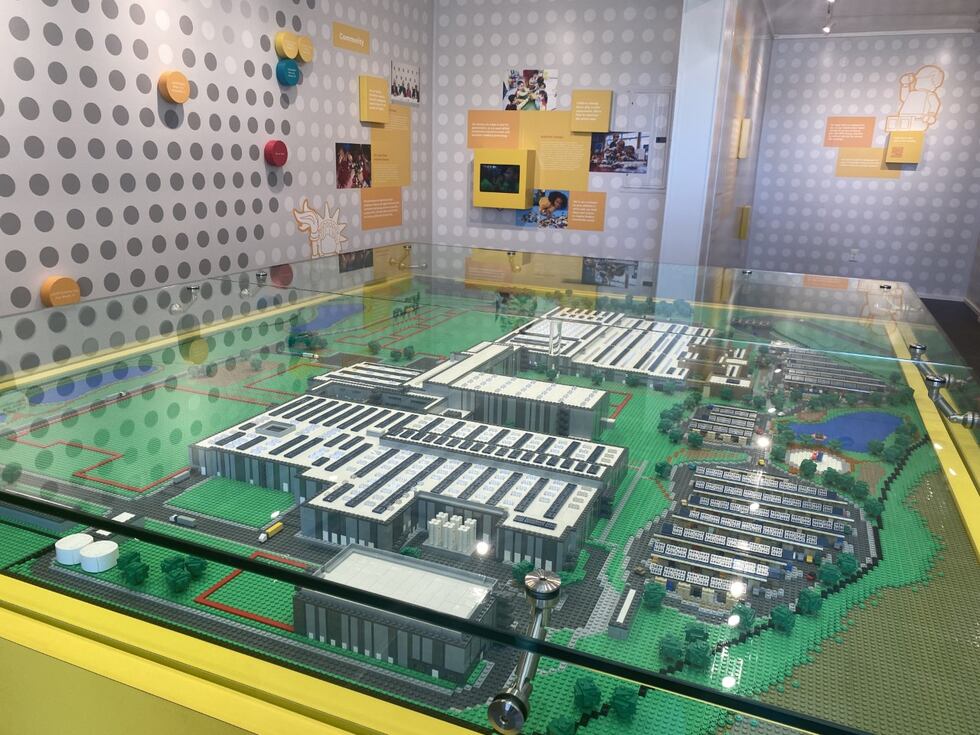 The colorful, iconic bricks will be molded, processed and packed in this 1.7 million-square-foot facility which includes offices and a high bay warehouse.
The factory is also slated to be carbon neutral and will have an onsite solar park.
"Which will generate enough energy to support the total energy requirements when we are full capacity in the factory," said Carsten Rasmussen, chief operations officer for LEGO Group.
During the ceremony, LEGO Group also announced their investment of more than $1 million to support children in the greater Richmond area.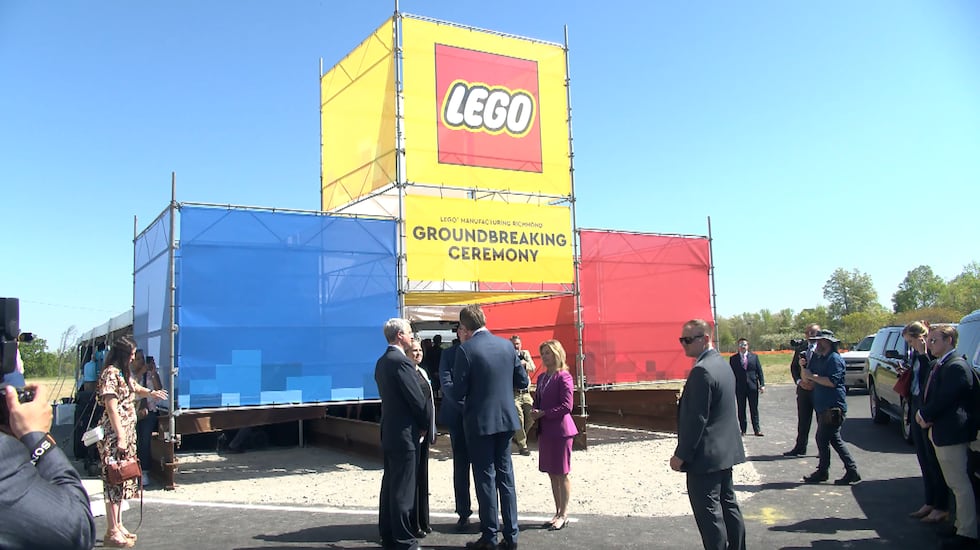 Chesterfield County's well-established Meadowville Technology Park expanded its footprint in 2020 when the Chesterfield County Economic Development Authority purchased a 353-acre property formerly part of an 800-acre American Tobacco cigarette plant site.
The LEGO Group cited more than 100 selection factors and sub-factors before deciding to build in Virginia.
The decision to build at the Meadowville Technology Park came with a nearly shovel-ready site covering 340 acres with access to nearly 33,000 local manufacturing workers. The site also enables convenient access to nearby Interstates 85 and 95, along with access to The Port of Virginia's Richmond Marine Terminal and its larger coastal facilities in the Hampton Roads region.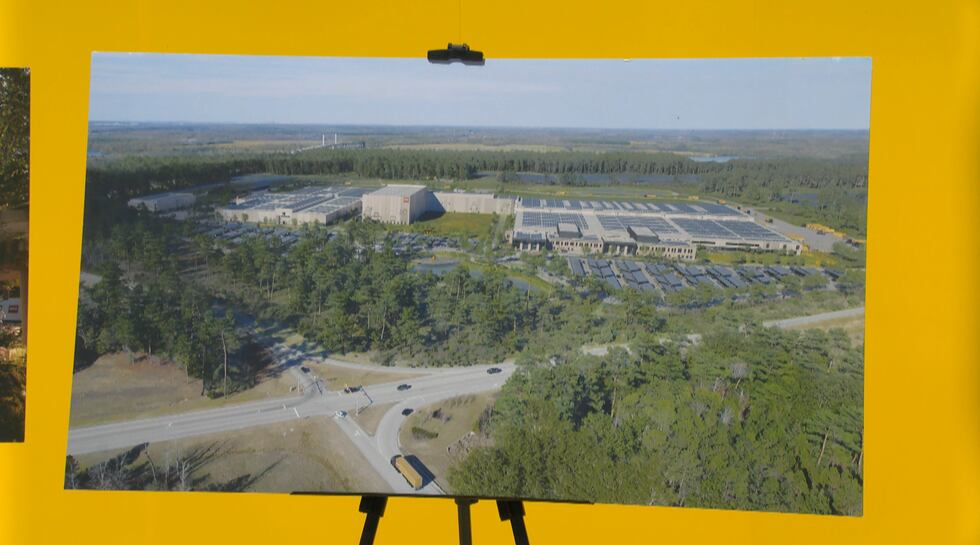 The factory is set to be fully operational by the end of 2025 with a mission to inspire future builders.
"I cannot wait for us to bring LEGO play to millions of kids from our site right here in Chesterfield," said Rasmussen.
Recruitment is already happening for 500 roles in the new packaging facility. Click here for jobs already posted.
Copyright 2023 WWBT. All rights reserved.