Trump campaign selling T-shirt with fake mug shot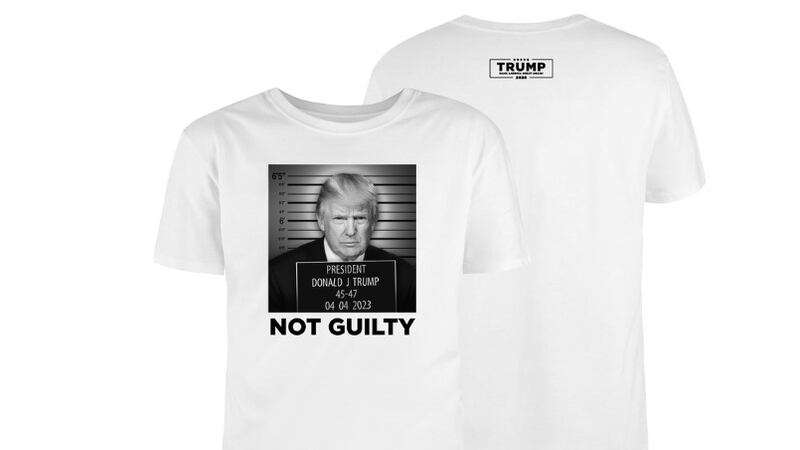 Published: Apr. 4, 2023 at 8:15 PM EDT
|
Updated: Apr. 4, 2023 at 10:02 PM EDT
(Gray News) - Former President Donald Trump reportedly did not have his mug shot taken Tuesday, but his 2024 election campaign is now selling an "Official Trump Mugshot T-Shirt."
His campaign tweeted a picture of the shirt Tuesday afternoon, around the time Trump surrendered to authorities in New York City and pleaded not guilty to 34 felony counts related to hush money payments made during his 2016 presidential campaign.
The T-shirt shows a fake booking photo of the former president above a letter board displaying his name and Tuesday's calendar date.
The numbers "45-47″ also appear on the letter board under "President Donald J. Trump," presumably indicating his status as the 45th U.S. president and his current campaign to become the 47th.
The picture depicts Trump as 6 feet, 5 inches tall, though his doctors have said he's 6 feet, 3 inches tall.
The words "NOT GUILTY" appear beneath the picture.
Trump was fingerprinted Tuesday but police didn't take his mug shot, according to New York Times reporter Maggie Haberman, citing "a person familiar with events."
The merchandise website for Trump's campaign is selling the T-shirt for $36. The shirt also can be had for "a contribution of $47 or more," a fundraising email from the Trump campaign reportedly said.
Trump's campaign claims he's raised more than $7 million since the news of his indictment broke Thursday, according to Forbes magazine.
Copyright 2023 Gray Media Group, Inc. All rights reserved.