Bruce Springsteen, E Street Band launch 1st tour in 6 years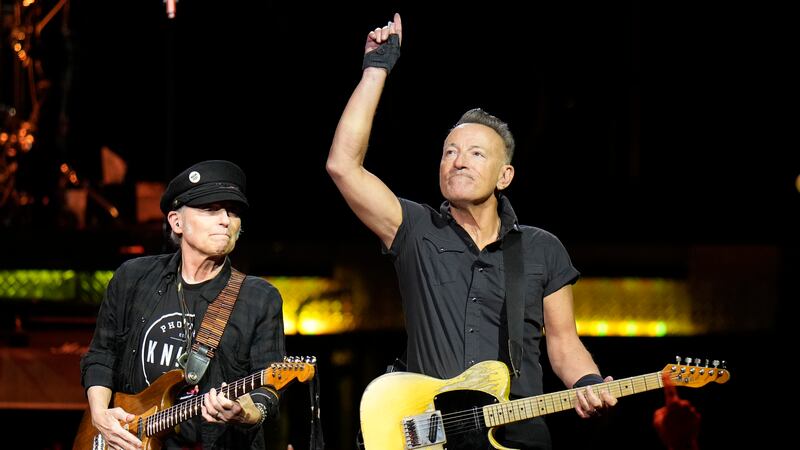 Published: Feb. 2, 2023 at 12:33 PM EST
|
Updated: Feb. 2, 2023 at 1:46 PM EST
TAMPA, Fla. (AP) — It's been six years since Bruce Springsteen and the E Street Band embarked on a major tour.
Judging by the first show Wednesday night in Tampa, Florida, you'd never know it. The Boss and his band served notice they are back.
At just under three hours, it wasn't quite one of the marathon performances the 73-year-old Springsteen is best known for. But kicking off with "No Surrender" and finishing with a solo acoustic "I'll See You In My Dreams," Springsteen was in fine voice, and his big band matched his energy.
There were 19 musicians on the Amalie Arena stage at various points during the show, including the core of Springsteen's wife, singer Patti Scialfa, bandana-wearing guitarist Stevie Van Zandt, fellow guitarist Nils Lofgren, drummer Max Weinberg, bassist Garry Tallent and keyboardist Roy Bittan.
Missing of course was the original "Big Man," sax player Clarence Clemons, who died in 2011. But his nephew Jake Clemons didn't miss a beat and ripped off some gorgeous solos throughout the night. He was backed by a brass section that rounded out the big sound.
The 28 songs included favorites like "Born To Run," "Glory Days," "Rosalita," "Promised Land" and "Backstreets." Yet six songs came from Springsteen's 2020 album "Letter To You" and left unplayed at least for this performance was the classic "Thunder Road."
There was only one song from "The River," which his 2017 tour played in its entirety. That was the exuberant "Out In The Street." And the closing acoustic song "Dreams" was a staple of his "Springsteen On Broadway" performances.
Springsteen's devoted fans ate it all up, with 20,000 people in the arena standing for almost the entire show. For them, a performance by the Boss is a kind of religious experience that simply must be sought out.
"This is a ray of light. This is something we've been waiting for," said Billy Himmelrich, who came over from Delray Beach.
His wife, Shelly, took it a step further: "I listen to his music all the time. In a way he's my spiritual leader."
Springsteen didn't have a whole lot to say to his fans, ripping instead through song after song with little banter. But he did acknowledge his age — and theirs, too.
"At 15, it's all tomorrows. And at 73, it's a whole lot of yesterdays," Springsteen said. "That's why you've got to make the most of right now."
And Springsteen delivered. His energy was as high as ever, venturing into the crowd and even conducting the brass section at one point. He shredded numerous guitar solos and almost every song seemed epic, like a couple of dozen encores strung together.
It's clear he and the band just want to play. Fifty years after his first two albums were released — and before "Born To Run" made him a superstar — Springsteen may not jump as high, but when he raises his arms, everyone else must as well.
Springsteen doesn't have to "Prove It All Night," but that's what he does. He's sold around 140 million albums, won 20 Grammys, an Oscar and a Tony award. Few artists can match those accomplishments.
And now it's on to the rest of the 31-date U.S. tour, which ends with a homecoming April 14 in New Jersey. From there, it's off to Europe, starting with an April 28 show in Barcelona, Spain.
___
This story has been corrected to say Jake Clemons is Clarence Clemons' nephew.
Copyright 2023 The Associated Press. All rights reserved.