30-year-old dog named Bobi is the world's oldest dog ever, Guinness World Records says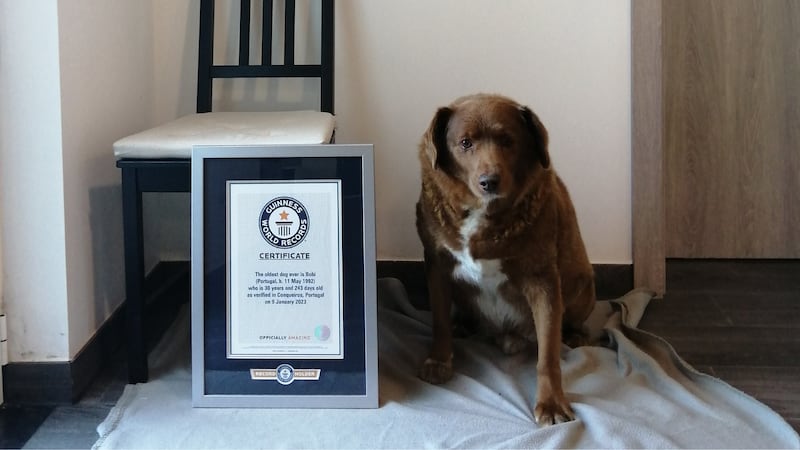 Published: Feb. 2, 2023 at 12:13 PM EST
(Gray News) – Just two weeks after announcing Spike as the world's oldest living dog, Guinness World Records announced that Bobi, a dog from Portugal, is even older.
In fact, Guinness has gotten evidence that Bobi will turn 31 years old in May, making him the oldest dog ever.
According to Guinness, Bobi is a purebred Rafeiro do Alentejo, a breed of livestock guardian dog with a life expectancy of 12-14 years.
The dog's owner told Guinness that Bobi is lucky to be alive at all. Leonel Costa explained his father was a hunter with many dogs and didn't want to keep the litter of puppies Bobi was a part of.
Costa said his father missed one, so he and his brothers kept the puppy a secret. Guinness said his parents punished them for hiding Bobi, but ultimately let them keep it.
Costa believes a peaceful environment and Bobi's diet of only human food contributed to his longevity.
"Bobi has been a warrior for all these years, only he knows how he's been holding on, it must not be easy because the average dog's life span is not that high and if he spoke only he could explain this success," Costa said in a news release. "We are very happy and grateful to life for allowing us, after 30 years, to have Bobi in our daily lives."
Bobi is a calm, sociable dog that enjoys playing with his four cat siblings. His day revolves around walks, meals and relaxing by the fireplace.
Costa said seeing Bobi's long life recognized by becoming a Guinness World Record title holder is "an immense joy."
The previous record holder for the oldest dog living was Spike who achieved the record at 23 years and 7 days, as verified in Camden, Ohio on December 7, 2022.
The previous record holder for the oldest dog ever was Bluey, an Australian cattle dog who lived to 29 years and 5 months before dying in November 1939.
Copyright 2023 Gray Media Group, Inc. All rights reserved.