'The fire was blazing': Fire destroys home in eastern Henrico
Henrico Fire closed down a portion of Darbytown Road for several hours
Published: Jan. 5, 2023 at 6:47 AM EST
|
Updated: Jan. 5, 2023 at 12:22 PM EST
HENRICO, Va. (WWBT) - Early Thursday morning, crews from Henrico Fire were called to the scene of a house fire along Darbytown Road in the county's east end.
Patricia Oliver, who lives across the street, called first responders when she saw the flames erupt across the street from her home.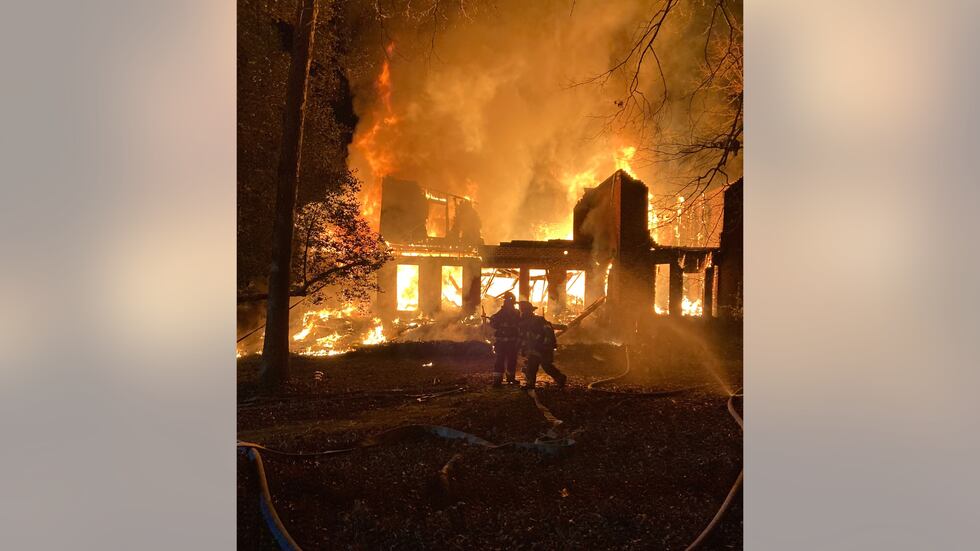 "This morning, my husband came out to get ready to go to work, and he came back in the house to holler and say he saw a fire across the street," said Oliver. "By the time I got out there, the fire was blazing. It was up in the air, flames everywhere. And then you hear a lot of crackles and stuff."
When crews from Henrico Fire arrived on the scene, they found the home fully engulfed in flames.
"Big flames and things and everything was starting to pop, and the flames were getting higher and higher like the whole woods were going to catch on fire," she said.
Thick smoke filled the air as crews worked to contain the blaze, which took nearly an hour. Officials said no one was home at the time of the fire.
"At this time, we know several of the walls have collapsed," said Henry Rosenbaum, fire marshal for Henrico Fire. "This is just a total involvement of that house, so it's just devastation."
Rosenbaum said water tankers brought water to the scene since there were no hydrants in the immediate area.
"It's a lot more manpower intensive to have those extra trucks up and down the road, but it's something we practice and do often and is just what we know in these kinds of situations that we have to do," he said.
Rosenbaum also said no one was hurt.
"We're working closely with the family that is here and the other family that is out of town and meet their needs," Rosenbaum said.
An outcome Oliver is also thankful for.
"Those are my neighbors across the street, I don't know them very well, but I know about them, and I thank God they're okay," she told NBC12.
The blaze impacted traffic on Darbyown Road between Turner Road and Yahley Mill Road throughout the morning.
The cause of the fire is still under investigation.
Copyright 2023 WWBT. All rights reserved.