Disney-themed children's clothing sets recalled due to lead poisoning hazard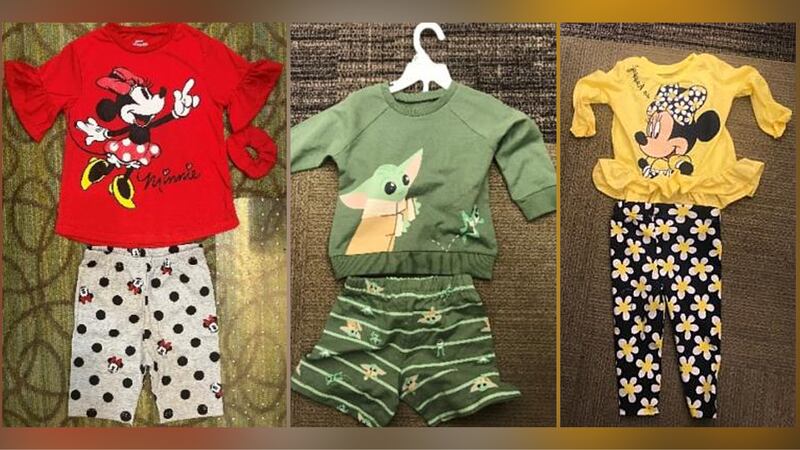 Published: Dec. 1, 2022 at 6:31 PM EST
(Gray News) - Pieces of Disney-themed children's clothing are being recalled due to the risk of lead poisoning.
The Bentex Group has issued a recall of about 87,000 units of children's clothing, according to the U.S. Consumer Product Safety Commission.
Officials said the affected products were sold online at Amazon and several major retailers nationwide, including TJ Maxx, DD's/Ross, Burlington, and others from November 2021 through August 2022.
According to the recall alert, the textile ink painted on the clothes contains levels of lead that exceed either the federal lead paint ban or the federal lead content ban, posing a lead poisoning hazard. Lead is toxic if ingested by young children and can cause adverse health issues.
Consumers can contact Bentex at 1-800-451-0285 or via email at recall@bentex.com or online. The company said it is offering a refund on the recalled items.
The recall involves nine different Disney-themed clothing sets. Officials said the item and batch numbers are printed on the clothing neck or side label.
The following styles are included in the recall:
Jersey Leggings Set - G9P6456M
Batch numbers: 69P6456MI-0122, 79P6456MI-0122, 89P6456MI-0122, 99P6456MI-0122 69P6456MI-0722, 79P6456MI-0722, 89P6456MI-0722, 99P6456MI-0722.
Bike Shorts Set - G1E2125MI
Batch numbers: 71E2125MI-0122.
Girls Shorts Set - SP2247971DC
Batch numbers: SP2247971DC 3/2022.
Girls Shorts Set - SP2246088DS
Batch numbers: SP2246088DS 03/2022.
Boys Shorts Set – B2E6459LN
Batch numbers: 02E6459LN-0322, 12E6459LN-0322.
3 Pack Shorts Set - B2E6919MM
Batch numbers: 02E6919MM-0322, 12E6919MM-0322, 22E6919MM-0322, 32E6919MM-0322.
3 Pack Pants Set - B2P6920MM
Batch numbers: 02P6920MM-0322, 12P6920MM-0322, 22P6920MM-0322, 32P6920MM-0322.
Children's Shorts Set - B2E5094PH
Batch numbers: 12E5094PH-1021 22E5094PH-1021.
Children's Leggings Set - G2P6361MI
Batch numbers: 62P6361MI-0322, 72P6361MI-0322, 82P6361MI-0322.
Copyright 2022 Gray Media Group, Inc. All rights reserved.