Department of Historic Resources releases inventory of items found in 1887 time capsule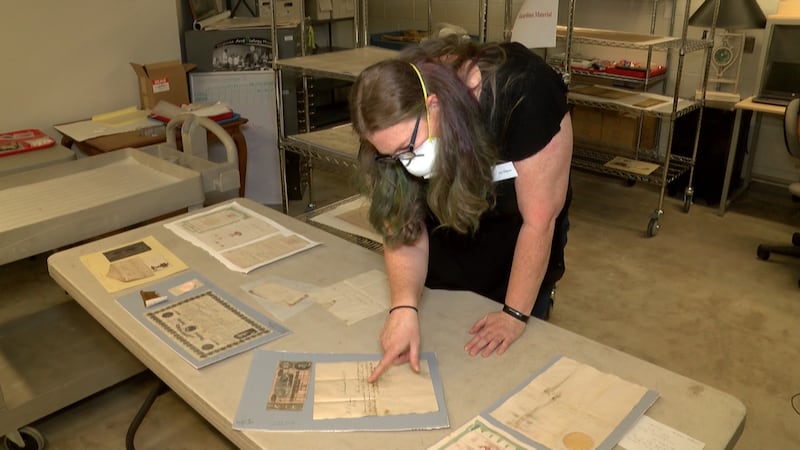 Published: Jan. 18, 2022 at 3:45 PM EST
|
Updated: Jan. 21, 2022 at 9:30 PM EST
RICHMOND, Va. (WWBT) - The Virginia Department of Historic Resources released an inventory of the items found inside the 1887 time capsule beneath the former Robert E. Lee monument in Richmond.
The time capsule was found on Dec. 27, 2021, about a week after a smaller box containing items from the statue's builders. Those items included books, coins and other documents.
The entire inventory includes 71 objects altogether, with more than 50 items being paper-based and books. There were also "19th-century–era bullets, silver and copper coins, badges, wood-made items, and a "piece of a stone wall."
State Archaeological Conservator Kate Ridgway said the artifacts recovered from the copper box were in amazing shape.
"We've seen time capsules coming out of Virginia and southern states coming out in much worse condition," Ridgway said. "These are in remarkable condition."
In addition to the books, ammo, and coins found inside the copper box,
DHR said 20 objects conservators cataloged were not mentioned in the original 1887 Richmond Dispatch article.
Inside the Department of Historic Resources on Wednesday, Kate Ridgeway shared those items, including a letter from George A. Notting regarding his son's contribution to the cornerstone box.
Other items not included in the original inventory list include an unidentified Masonic textbook and several books, including a copy of Army of the Northern Virginia Memorial Volume.
Conservators also found other newspapers, including a couple of newspapers from the Daily Dispatch.
Christina Vida with the Valentine Museum believes this may have been slipped in by William B. Isaacs, who DHR said oversaw the collection of the objects and chose them based on what he believed represented the "present age" of the time.
"He is the secretary of the Grand Lodge of Virginia. He's in charge of these cornerstone boxes," said Vida. "Individuals who had items that are listed in that 1887 listing in the newspaper in some cases did add in their own personal items that might have gotten slipped in and perhaps just weren't specifically cataloged by William Issacs."
Ridgway also pointed out an interesting discovery with the centerfold image of a figure grieving over Abraham Lincoln's coffin in an 1865 edition of Harper's Weekly.
Ridgway pointed out early signs to repair and preserve this picture before it was placed in the cornerstone box.
"They took bits of newspaper from the Richmond Dispatch and adhered them to the back to make sure this was presentable and stable enough to go into the time capsule," she said.
Moving forward, Ridgway said preservation is key for these items as they work to determine who will own these artifacts.
"I think it's going to be exciting to see historical institutions use these items and pair them with additional items. Again representing the history of Black Virginia, Black Richmonders who are living here, and show really how narrow a slice of history that we're seeing through this particular list," said Vida.
DHR plans to release weekly articles about the items in both boxes on its website.
Copyright 2022 WWBT. All rights reserved.
Want NBC12's top stories in your inbox each morning? Subscribe here.