Monticello to reopen Saturday with new health protocols, guest experience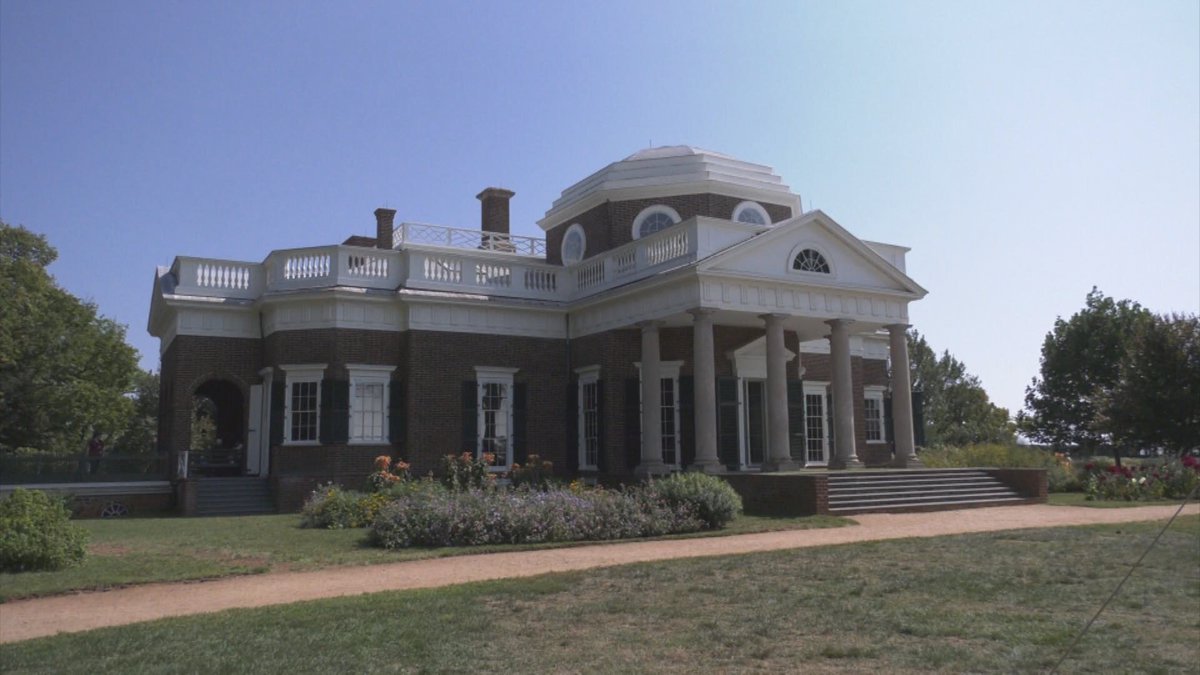 Published: Jun. 11, 2020 at 6:47 PM EDT
ALBEMARLE COUNTY, Va. (WVIR) - Monticello will reopen to public on Saturday, almost 3 months to the day since it closed due to coronavirus health concerns. Thomas Jefferson's historic home has been closed since March 16.
The site will be embracing several new health protocols to keep visitors safe. These procedures include hand-sanitizing stations, requiring masks, and reducing the daily capacity for visitors to help maintain social distancing. Masks will be available for purchase at The Shop at Monticello.
Monticello has also used the closure time to overhaul the guest experience. Visitors will be returning to several changes, including self-guided tours, and the ability to take photos inside the site.
Staff have also added displays and stations outside the home to allow visitors to spread out on the grounds outside and still learn about Monticello and the history of the region.
Monticello Press Release -- 06/11/2020
CHARLOTTESVILLE, VA – Monticello is pleased to announce that the historic site – including the house and grounds, David M. Rubenstein Visitor Center, The Shop at Monticello, and its café, Monticello Farm Table – will reopen Saturday, June 13. Earlier this week, on June 9, the Saunders-Monticello Trail reopened to hikers, runners, and cyclists.
"As we welcome guests back to Monticello, health and safety are our top priorities," said Leslie Greene Bowman, President and CEO of the Thomas Jefferson Foundation. "Our staff has worked hard to implement new safety protocols and unveil a more flexible, family-friendly experience. We're excited to open our doors again."
Enhanced Health Protocols
In accordance with guidelines issued by state and local health authorities, Monticello has implemented rigorous procedures that include frequent cleaning and disinfecting across the property.
Hand-sanitizing stations are readily available for both staff and guests.

Face coverings are required at all times inside buildings or outside near other people.

Daily guest capacity has been significantly reduced to facilitate physical distancing.

Reconfigured foot-traffic patterns and signage reinforce physical distancing.

Tickets should be purchased online at Monticello.org/tickets to reduce physical contact.

All bags will be inspected and must be clear (not exceeding 12" x 16" x 12"), with exceptions for medically necessary equipment. One-gallon clear plastic storage bags are acceptable.

Face masks and clear bags will be available for purchase at The Shop at Monticello.
Family-Friendly Activities, Self-Guided Tours
Complementing these new safety protocols is a reimagined guest experience, designed with families in mind. Self-guided tours and new, outdoor educational stations allow guests to enjoy Monticello at their own pace. For the first time in Monticello history, photography is allowed inside the iconic mansion.
When touring the house, guides stationed outside will greet guests and provide an introduction to Monticello; then they will be waiting to answer additional questions when guests exit. New signs direct guests to mobile-friendly online resources, as well as specific pages in the Monticello Guidebook, where they can discover more about the spaces they encounter during their visit. Guidebooks are available for purchase online, or at The Shop at Monticello.
At outdoor stations around the mountaintop, guests can gather comfortably in physically-distanced seating areas to engage with Monticello's friendly and knowledgeable staff. Each focusing on a different topic, these stations offer the chance to reflect on slavery at Monticello and its legacies today, learn about gardening, hear about new discoveries and ongoing research from Monticello experts, or meet Thomas Jefferson himself, interpreted by Bill Barker. A station dedicated to families will share stories and explore a range of topics, all tailored for young learners.
A new digital scavenger hunt featuring trivia questions, "find it!" challenges, and invitations for reflection will soon be available for young visitors – and the young at heart.
Beyond these expanded outdoor activities, Monticello's grounds offer plenty of outdoor space to explore. Guests can walk along Mulberry Row and learn about the enslaved community, stroll through the flower and vegetable gardens, or take a scenic hike on the Saunders-Monticello Trail.
Monticello Farm Table, the on-site café, is open and serving sandwiches, salads, snacks, and beverages including beer, wine, and Monticello Root Beer. Farm Table and The Shop at Monticello will feature signage and traffic patterns that encourage physical distancing. Point-of-sale electronic transactions will minimize the need for guests to touch surfaces.
Local Discount, Families Visit for $20
To make it easier for local families to enjoy these new experiences, Monticello will offer special admission rates for the summer. Now through September 30, local adult tickets are just $10 each, and admission for local families, defined as all adults and children living within the same household, is $20. This discount is good for residents of the city of Charlottesville and the following counties: Albemarle, Greene, Orange, Louisa, Fluvanna, Buckingham, Nelson, Augusta, Rockingham and Madison.
Enhancements During Closure
With the onset of COVID-19, Monticello committed to retaining its staff and emerging stronger. With staff intact, Monticello made the best of the unexpected closure by pivoting to address important projects – many of which would have been difficult to tackle during normal operations. Staff that could not work remotely enacted new safety protocols.
"We've come together in the face of adversity and responded in ways that are making Monticello even stronger," said Bowman. "We retained 100 percent of our staff, and redeployed them to focus on various projects in the house, around the grounds and online. We've missed having visitors, but I can't recall a time when the team has worked harder or more creatively."
A cross-departmental team worked overtime to premier a live, guided virtual tour on the first day of closure. Guests could explore the house with a guide and ask questions in real time, all from the comfort of their living rooms. In its first four weeks it won praise and views by more than 650 people, from as far away as Istanbul and Beijing. Within two weeks staff expanded virtual programming to include a menu of regular weekly livestreams that have attracted on average more than 10,000 viewers weekly.
Onsite, staff tackled big physical projects. Guests will now enjoy the newly repainted Parlor, restored to its original soft gray color after several rounds of microscopic paint analysis. Lighting was added to the Tea Porch, and the Great Clock was sent out for conservation. The iconic West Lawn was reseeded; Mulberry Row was resurfaced; a 2-mile perimeter fence was constructed to protect Monticello's historic gardens from deer, and the grounds team could address tree pruning and removal.
On June 13, guests will encounter a more accurate, beautiful, and family-friendly Monticello than ever before.
For more about Monticello's reopening, FAQs, and detailed information for guests, visit monticello.org/reopening.
Copyright 2020 WVIR. All rights reserved.