Proposal hopes to make Dogwood Vietnam Memorial more ADA accessible
Groups wants to add closer parking area, pedestrian bridge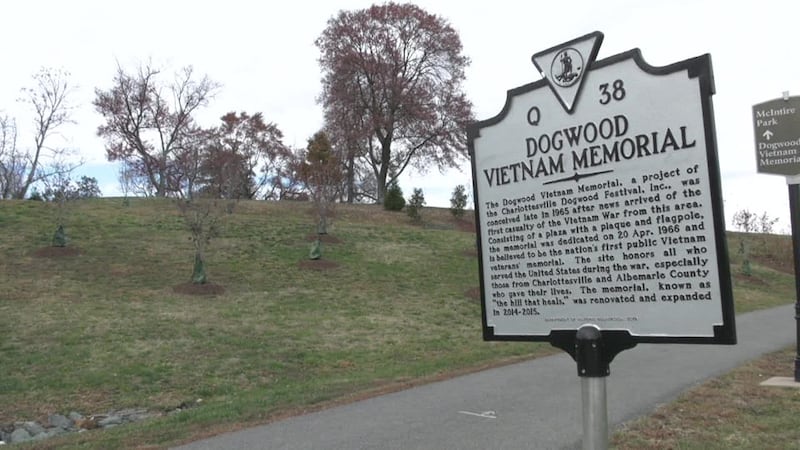 Updated: Nov. 14, 2019 at 7:59 PM EST
CHARLOTTESVILLE, V.A. (WVIR) - A Charlottesville memorial to Vietnam veterans is not easily accessible for many of the brave men and women it honors. Now, a working group is bringing a proposal to City Council to change that.
The closest parking to the Dogwood Vietnam Memorial is about a 10 minute walk away. Visitors have to walk under the Route 250 Bypass, cross the John Warner Parkway, and then walk an uphill asphalt trail to the memorial.
"A lot of them are somewhat disabled, and if you try to get there today, and you're other than young and strong, you'd have a great deal of difficulty," said working group member Jay Levine.
The working group is proposing a new, closer parking area with an ADA accessible pedestrian bridge that connects it to the memorial. The project would be costly, but Tom Vandever, a member of the working group, says the UVA Engineering Department is interested in sponsoring a design project, which would help with some of the cost.
"It's upwards of $1.5 million probably," Vandever said. "Part of that, though, is there are grants from VDOT that the city could pull down very quickly that would help a lot…and, you know, it could be put in the capital budget."
Vandever says there are a variety of ways available to raise the funds.
"There are other funds available perhaps, some mix of city funds, philanthropic funds, a lot of foundations, organizations, VDOT has some funds that we could ask for and perhaps some federal funds," Vandever said.
Vandever is hopeful city council will approve the recommendations. They also say the newly-elected council members who start in January are aware of the issue and would likely back the proposals.
Copyright 2019 WVIR. All rights reserved.