UVA kicks off 24-hour Veterans Day vigil
Event comes with controversy after cancellation of 21-gun salute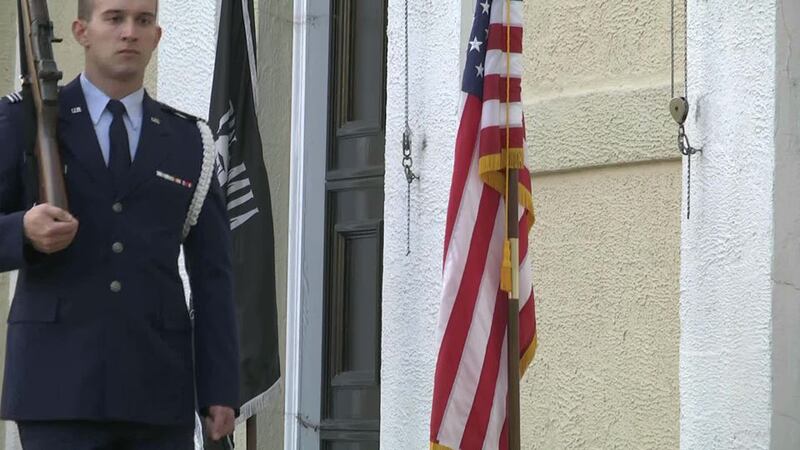 Updated: Nov. 11, 2019 at 5:01 PM EST
CHARLOTTESVILLE, V.A. (WVIR) - Some military members sacrifice time with loved ones, their bodies, and in many cases their mind. Others fight for freedom by giving their lives.
All of them are being honored on Monday and a vigil is underway at the University of Virginia. Cadets at UVA say the vigil is a very visible way to honor veterans and prisoners of war.
The vigil kicked off Monday afternoon at the UVA amphitheater. Cadets are taking one-hour shifts and marching along the stage.
Monday night, the amphitheater will be lit in a way that casts large shadows of the cadets and raise more awareness about the day. Things will culminate Tuesday at 4 p.m. with a ceremony to honor veterans.
"By putting on this POW-MIA vigil, we are right in the center of the university," said second class ROTC cadet and UVA student William Sexton. "Everyone walking by here during class changes, throughout the day, and everybody has to visibly acknowledge what the significance of the day is for."
This year's ceremony does come with some controversy. UVA made a decision to not include a 21-gun salute this year which is promoting backlash from the veteran community. Some say the 21-gun salute is a tradition and the ultimate salute to veterans.
UVA says the decision is set in stone for two reasons. They don't want to disrupt classes on Tuesday and they also want to make sure students don't confuse the salute with an active shooter here on grounds.
Copyright 2019 WVIR. All rights reserved.