Nation's veterans honored at ceremony in Albemarle County
American Legion Post 74 celebrates veterans from all around central Virginia.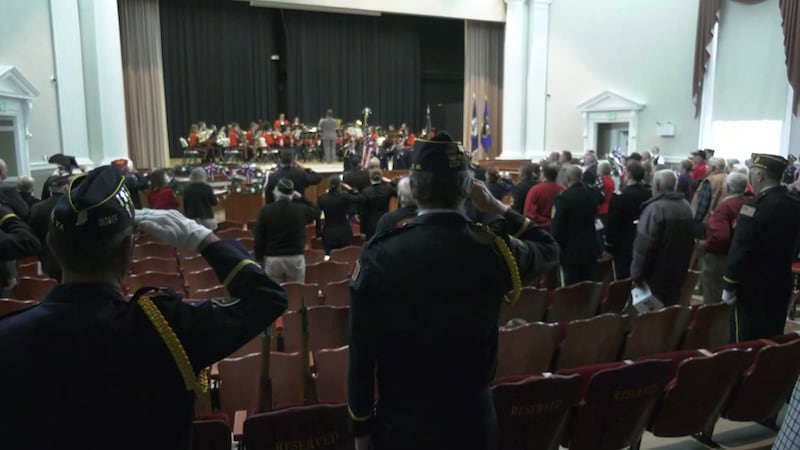 Updated: Nov. 11, 2019 at 3:58 PM EST
ALBEMARLE COUNTY, V.A. (WVIR) - Those who have served in the military are coming together Monday to celebrate and remember our nation's heroes.
Dozens of veterans went to a special ceremony at the Albemarle County office building to reflect on the holiday. American Legion Post 74 put on the event to celebrate the veterans and the 101st anniversary of Armistice Day.
In addition to laying wreaths for each branch of the armed forces, the commander of the American Legion Post, Bruce Eades, spoke to attendees about the importance of freedom.
"We also have to remember those that sacrificed their time and their families that sacrificed for our countries freedom," Eades said.
Eades says the work veterans do for their country goes beyond their time in the line of duty.
"I just love veterans because most of them come back home and continue to serve," Eades said. "They volunteer a lot and just the camaraderie is wonderful for when you're volunteering with different organizations."
While Veterans Day is all about thanking veterans for their sacrifice, one in particular said this is her first time in years she has been able to celebrate the day surrounded by other veterans.
"Because it's not like a mandatory federal holiday…some companies are open some are not so the companies that close, they're lucky because they get to be off but if you work for a company that doesn't observe the holiday and you're a veteran, unless you want to take paid time off, you're kinda stuck," said veteran Christine Cratty.
Cratty says she hopes, but does not expect, legislation to be passed that would allow veterans to automatically get Veterans Day and Memorial Day off.
Monday's ceremony featured a 21-gun salute, fired by servicemen from just outside the building.
Copyright 2019 WVIR. All rights reserved.