Woodson Enters Guilty Plea
Posted:
Updated: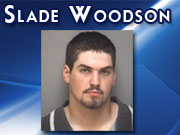 Slade Woodson has pleaded guilty to 14 charges related to last year's Interstate 64 shootings. Woodson, 20 years old, entered a plea agreement with the Commonwealth Wednesday morning.
Woodson pleaded guilty to 14 charges: two counts of malicious wounding, one count of attempted malicious wounding, five counts of shooting at an occupied motor vehicle, one count of the use of a firearm in commission of a felony, three counts of shooting from a motor vehicle, and two counts of shooting at an occupied dwelling.
He is already convicted on similar charges in Waynesboro.
"I am relieved this is over, I'm relieved for the community," said Albemarle Commonwealth's Attorney Denise Lunsford.
Lunsford says her office and the entire community took the I-64 shootings seriously. In court, she detailed what happened the night of March 26 and early morning of March 27, 2008.
"I think back to those two days, school was closed for a day, people really didn't know if we were looking at another DC sniper situation or not," Lunsford said.
Woodson's attorney Jessica Smith told the court she felt the Commonwealth would have had enough evidence to find her client guilty. That's part of the reason why she advised Woodson to take the plea deal.
"One of the considerations I had was the number of agencies that were involved, the number of witnesses that were going to need to be brought in, bringing in victims, which were not all from Charlottesville," said Lunsford.
Woodson told the judge he understands that by entering a plea deal, he has no right to an appeal. He also said he understands that the deal could mean a lesser sentence.
The shortest sentence Woodson could face is 28 years, the longest is 150 years. He will be sentenced June 23.