Work May Halt on Landmark Hotel
Posted:
Updated: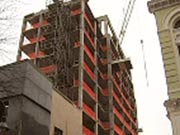 There are conflicting stories about the fate of Charlottesville's Landmark Hotel. The hotel's owner says financial problems will bring construction on the downtown mall to a dead stop this week. But the developer, Lee Danielson, says the luxury hotel is on solid ground.
The owner says a major financing problem has left contractors without money. He also says that means work on the hotel will stop on Friday.
Hotel owner Halsey Minor says the Georgia bank financing the project, Silverton Bank, was supposed to make a payment of more than a million dollars last week. But thanks to tough economic times, Minor says that didn't happen.
Now, Minor says work on the 100-room luxury hotel will halt. "All of the funding we've heard about so far has been extremely expensive, like 16 percent, which is almost like credit card. It's like building a hotel on your credit card," stated Minor.
The Daily Progress' website quotes Danielson as saying that there is no financial problem and that construction won't stop this week. We've tried to get in touch with that developer but no one has returned our phone calls. We did get a statement from Silverton Bank, saying, "It is against bank policy to comment on any individual loan or project. Notwithstanding that policy, the bank is in the position to honor any and all of its commitments for each of its projects in accordance with their terms."