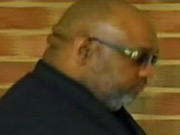 Friday night, a former prison guard is set to become an inmate after a jury in Fluvanna County convicted him for having sex with female prisoners. The verdict came down Friday afternoon for Major Patrick Gee.
The jurors reviewed evidence and testimony that focused on diagrams of Gee's office space and policies on meeting with inmates individually.
Commonwealth's Attorney Jeffery Haislip told the court Gee breached trust and abused his power by having sex with one inmate and, allegedly, two other inmates while he was chief of security at the Fluvanna Womens' Correctional Center.
The defense called former co-workers and friends of Gee to testify about his good character.
Friday afternoon, a jury agreed with the prosecution, returning four separate guilty verdicts. The jury recommended Gee serve two and half years for each count against him, a total of 10 years.
Whether that time would be served consecutively will be determined in formal sentencing. With the four guilty verdicts, Gee faces another trial for more alleged sexual conduct with two other women inmates.