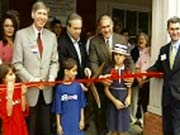 With the November elections quickly approaching, one Valley community is now host to a new Republican headquarters. The office is located in the Willow Oak Plaza off of Broad Street and is one of three GOP offices in Augusta County.
Lieutenant Governor Bill Bolling helped cut the ribbon Thursday in Waynesboro. Bolling, who spoke at the event, highlighted the importance of what he called the grassroots "ground war".
"We are doing the same thing all across the state: trying to get our grassroots volunteers organized, and energized, and mobilized for Election Day and getting our message out to the voters. That I think is going to ultimately determine the outcome of the election, which party does a better job getting their message out," said Bolling (R).
Also in attendance were Waynesboro Mayor Tim Williams, Delegate Steve Landes and Senator Ken Cuccinelli, who is seeking the Republican nomination for Virginia Attorney General.
Reported by Ryan White