Woman Found Guilty of Animal Cruelty
Posted:
Updated: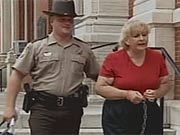 A Staunton woman was found guilty of animal cruelty charges Wednesday after her horse died of malnutrition last April.
Terry Lynn Sullivan appealed a district court's ruling back in June, but lost her appeal in Augusta County Circuit Court Wednesday.
A judge upheld the district court's ruling, sentencing Sullivan to 12 months in jail, with six of those months suspended under the condition that Sullivan does not buy a horse for 24 months.
Back in April, a neighbor driving by Sullivan's farm spotted the malnourished horse and called for help, but it died the next day.
This is the second time Sullivan has been found guilty of animal cruelty. Back in 1996, police and the SPCA rescued a total of 19 horses from the Fern Leigh Equine Center in Staunton, where she is the president and executive director.
Sullivan's bond has been set at $3,500.
Reported by Ryan White