Animal Cruelty Case Goes to Retrial
Posted:
Updated: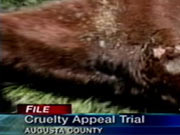 A judge on Wednesday could write the final chapter in an ongoing story of animal cruelty in Augusta County that dates back more than a dozen years.
In June, a district court judge found Terry Lynn Sullivan guilty of animal cruelty after a horse died in her care. Sullivan appealed the ruling which sent case to Augusta County Circuit Court. The retrial will take place Wednesday afternoon.
A neighbor driving by Sullivan's farm spotted the malnourished animal and called for help, but it died the next day.
Back in 1996, police and the SPCA rescued a total of 19 horses from the Fern Leigh Equine Center in Staunton. Sullivan, then the center's director, was convicted of animal cruelty.
That charge is a misdemeanor with a possible penalty of 12 months in jail and a $2,500 fine.
Sullivan will be fighting that same cruelty charge when she asks a circuit judge to throw out her more recent conviction.