Redskins Radio Returns to SportsRadio in Charlottesville
Posted:
Updated: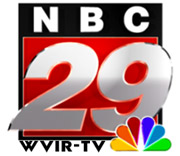 July 29, 2008
For immediate release
Redskins Radio Returns!
SportsRadio 1400 WKAV, Charlottesville's only fulltime sports radio station, has signed an affiliation agreement to carry the 2008 Washington Redskins radio broadcasts beginning with this Sunday's Hall of Fame Game against the Indianapolis Colts (air time 5:00pm).
"We're very pleased area Redskins fans will be able to hear Larry Michael, Sonny Jurgensen, Sam Huff and the entire broadcast crew beginning with the pre-game coverage through the game and to the end of the post-game coverage," said Program Director Joe Thomas, "and they'll be able to hear every pre-season, regular season and hopefully play-off game on SportsRadio 1400 WKAV."
"Charlottesville is full of rabid Redskins fans and we're extremely grateful to have SportsRadio 1400 WKAV as one of our valued Redskins radio stations," said Bruce Gilbert CEO, Red Zebra Broadcasting.
Radio coverage of the Redskins will begin three-hours prior to each game for the five game pre-game and 16 game regular season schedules. SportsRadio 1400 WKAV will also carry any post-season wild-card and divisional play-off games.
Monticello Media is a private, Charlottesville-based company operating six radio stations in the Charlottesville market. In addition to Charlottesville's only fulltime sports station, SportsRadio 1400 WKAV, the company owns NewsTalk 1260 AM WCHV, Country 99.7 WCYK, Hot 101.9 WHTE, Tom @ 107.5 WWJT and generations 102.3 & 94.1 WZGN.