UVA Engineers Rock Out in Mechatronics
Posted:
Updated: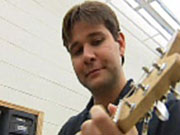 Here's a high tech word you may never have heard: mechatronics. It's a new concept and the University of Virginia is teaching it. Mechatronics is the combination of mechanical engineering, electronic engineering and software engineering.
Engineers are rocking out as part of a class. Engineering doctoral student Gavin Garner shares, "The students enjoy playing Guitar Hero and Rock Band on their video game consoles, so I thought why not build the real thing in the lab?"
Students use a 3D printing machine and then print the design out on a milling machine right beside it. But that's just the beginning.
According to Gavin, "They really wanted to make them sound cool, and that's what made them wanna study analog circuitry and apply that into creating their own custom amplifiers and effects pedals to make them sound like real guitars."
The students are used to building simple machines, but mechatronics brings electronic technology foundations into the mix. It's a fusion that students can apply beyond the lab.
Mechanical Engineering Professor Pradip Sheth explained, "We want to make sure that we use that capability as intelligently and as smartly as possible to gain competitive business advantages, to do some good for the society."
The future is now for recent graduate Will Smith. He said, "In industry, there's a lot of opportunities for a mechanical engineering major to use mechatronics. It's becoming pretty widespread in every industry."
Will and his classmates made the guitars, sound synthesizers, and even an electronic golf coach. "Over the years we would like to see students invent products learning from the tools in this lab and create their own ventures and businesses," shared Sheth.
The guitars are just the beginning. The course starts again in the fall with a fresh batch of inventors.