Tracking the Interstate 64 and Waynesboro Shootings Case - 2008
Posted:
Updated:
The Gremlin Confiscated by Police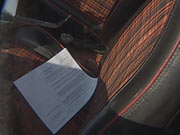 The Search Warrant, found on seat of Gremlin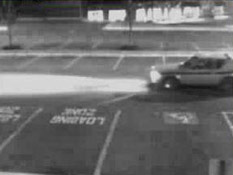 Still from Surveillance Video in Waynesboro
March 27, 2008 - At 12:10 a.m., reports come in that someone is shooting at cars on Interstate 64 in Albemarle County. Police close I-64 between exit 118 in Charlottesville and exit 96 in Waynesboro (click here to view map) for more than five hours while they investigate.
Two people are shot and treated and released from the Augusta County Medical Center. At least six vehicles were hit.
Authorities find at least three shell casings near the VDOT maintenance facility in Yancey Mills. State Police and other authorities analyze evidence collected from the scene and vehicles.
Waynesboro police also join the investigation, exploring a connection between the shootings at the Waynesboro Dupont Community Credit Union on Lucy Lane and 200 block of North Commerce and the shootings on I-64. Police received call about shots fired at North Commerce around 12:20 a.m. and find a home with a bullet hole in it.
A witness mentions are car similar to an AMC Gremlin in that block. A similar car was found at the Greene County - Albemarle County line and confiscated by authorities. Surveillance video at the credit union reveals the vehicle - light colored with a dark strip down the side - at the scene.

Schools safety becomes a big concern later that morning. Charlottesville cancelled all outside after-school sports and Albemarle County closes all schools after initially moving to have a two-hour delay.
March 24, 2008 - Albemarle County and Virginia State Police go to a house at Yonder Hill Farm to arrest one of the suspects (view map here). An armed man opened the door and a police officer shot the man twice. The man was then flown to UVA Medical Center where he underwent surgery. The officer is put on paid leave.
March 28, 2008 - Virginia State Police arrest two suspects in connection with the Interstate 64 and Waynesboro shootings. 19-year-old Slade Allen Woodson of Afton and a 16-year-old from Crozet are charged with multiple felony counts.
Woodson faces 12 felony charges - 10 for the I-64 incidents and two for the Waynesboro shootings. The juvenile faces 10 felony counts for the I - 64 shootings but not for the Waynesboro shootings.
Woodson owns a Gremlin that is processed by authorities. Police say they took ballistic evidence from an orange 1974 AMC Gremlin. They also recover a gun but won't confirm if it was used in the shootings.
State police issues a press release about Woodson's arrest. Woodson's family also releases a statement about his arrest.
Woodson has been arrested previously. In 2007, he spent six months in jail for destruction of personal property and larceny after turning himself into police for arson.
March 29, 2008 - An Alcohol, Tobacco, Firearms and Explosives lab matches the shell cases from the I- 64 shootings scene with casing found inside Woodson's car. The connection continues to a .22-caliber magnum rifle found inside the Yonder Hill Farm home where Woodson was arrested.
March 31, 2008 - A friend who had a falling out with Woodson lived in the Waynesboro house that was shot at on the night of the I-64 shootings. According to the friend's mother, he gave police information leading to Woodson's arrest. Police identify the man shot at Yonder Hill Farm as Edgar Dawson, a farm manger. He continues to recover from his injuries. He was shot at least twice, once in the chest and in the arm.
April 1, 2008 - Police identify the officer who shot Dawson as M.J. Easton. He was placed on administrative leave with pay in accordance with policy and procedures. He cooperates with the investigation.
April 21, 2008 - Woodson appears in Waynesboro Circuit Court, facing two additional charges. He faces one charge for shooting into an occupied dwelling and another for shooting from a vehicle, endangering others.
April 23, 2008 - Dawson returns home though he has not fully recovered from his injuries. He has not been charged for his actions during the Yonder Hill Farm incident.
May 1, 2008 - Woodson's preliminary hearing is continued in Albemarle County General Court. He now faces 15 felony charges in Albemarle. He appeared before the court on a video uplink April 1 and requested a court appointed attorney. His hearing is scheduled for May 15 at 11 a.m.
May 6, 2008 - The 16-year-old accused in the Interstate 64 shootings pleads guilty to five of 15 counts, involving malicious shooting at vehicles. Seven of the charges won't be prosecuted by the Commonwealth. He can avoid three charges if he continues to accept his responsibility and cooperate with police. His defense attorney said he didn't want to put the Commonwealth through a trial when he knew he was responsible for the crimes. His sentencing is set for May 28 at 11:30 a.m.
May 9, 2008 - The 16-year-old faces more charges in Waynesboro for the shootings at the credit union and the house. The charges include felony destruction of property, shooting from a vehicle, and two counts of shooting into an occupied dwelling.
May 12, 2008 -
Woodson appears in Waynesboro district court. Interstate 64 shootings suspect Slade Woodson has been indicted on six counts, including two new ones, by a Waynesboro grand jury. The counts include two for shooting into an occupied dwelling, three for shooting from a motor vehicle and one for destruction of property. There are 21 charges in total against the 19-year-old Woodson. He'll appear in court again on June 24 to enter a plea and have his trial date set.
May 28, 2008 - The 16-year-old appears in Albemarle Juvenile Domestic Court. The judge decides the best punishment for the young man is to put him in a juvenile justice system for as long as the state sees fit. This sentencing is based on psychology reports, family and criminal background information as well as new information that he plead guilty to two charges in Waynesboro. The defense gets 10 days to appeal the sentence of the case. An appeal would move the case to circuit court where the 16-year-old would still be considered a juvenile. Click here to read more on the sentencing.
June 2, 2008 - Woodson is indicted by an Albemarle County grand jury. He faces 15 charges in the county. His trial date is set for September 16.
June 6, 2008 - The juvenile appeals his case because of the strict sentence he was given on May 28. The appeal reopens the process including the guilt phase and the case will be moved to circuit court. The court can only give him a lesser sentence because he was given the maximum.
June 24, 2008 - Woodson's public defender waives Woodson's right to a speedy trial in Waynesboro Circuit Court. His plea hearing is pushed back to July 14.
July 7, 2008 - The juvenile appears in Albemarle County Circuit Court. The judge gives him six months at the Blue Ridge Detention Center for a program that includes focuses on character development, life skills and the transition back into society. He will also have to pay restitution fees upwards of $12,000. Additionally, the juvenile will have to have face-to-face conversations with the victims from the shootings.
July 21, 2008 - Woodson pleads guilty to all six charges in Waynesboro. The charges carry a possible prison term of up to 55 years. He faces a September jury trial on 15 felony charges related to the interstate shootings.
September 12, 2008 - Woodson may be ready to plead guilty. According to court documents filed Wednesday, Slade Woodson's attorney asked for his client's jury trial to be continued ot give Woodson more time to consider a guilty plea.
November 10, 2008 - In Waynesboro Circuit Court, Woodson is sentenced to two years in jail but some of that time is suspended. He still faces decades in jail for the I-64 charges in Albemarle County.
December 03, 2008 - The trial has been delayed for the man accused of shooting at cars on I-64 last March. Slade Woodson was expected to enter a guilty plea in Albemarle Circuit Court but instead fired his attorney and asked for another court appointed lawyer. Woodson has already been sentenced to two years in prison for other crimes he committed in Waynesboro that same night.