Plea Agreement in Baby to Landfill Case
Posted:
Updated: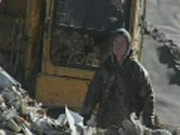 A plea agreement was reached for the college student who threw her baby away in the trash in Rockingham County. 20-year-old Sarah Wolf has pleaded guilty to disposing of a dead body without permission.
Wolf received a sentence of 30 days in jail suspended and a year of probation. Since disposing of a dead body is just a misdemeanor, she faced a maximum of one year in jail. The commonwealth's attorney says that since no body was ever found, this was the most severe sentencing Wolf could get.
In January 2007, Wolf threw her newborn baby in a dumpster after she delivered it in a dormitory bathroom at Bridgewater College. A search for the newborn's body began days later at the Rockingham County landfill. Investigators worked for countless hours, sifting through 300 tons of trash, but no body was ever found. There has been no evidence to contradict Sarah Wolf's claim that the baby was stillborn.
"I entered that plea deal with great reluctance, but because of the current status of the laws in the United States and the Commonwealth, as well as the lack of evidence in this case, and that we never recovered a body, it was necessary in order to preserve a conviction," explained Commonwealth's Attorney Marsha Garst.
Garst says she will be working next year to change the laws about incidents like this one to ensure similar tragedies can possibly be avoided. Wolf has been undergoing counseling. As part of the plea agreement, she'll be re-assessed and may attend more counseling.