Death Investigation Update
Posted:
Updated: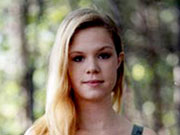 Virginia State Police say that the investigation into the death of Justine Abshire is still moving forward. The 27-year-old died on November 3, 2006 on Taylorsville Road in Orange County.
Initially it was believed she was killed in a hit and run accident after getting out of her car to check on car trouble. Abshire's husband, Eric, found his wife's body after reportedly coming to pick her up because she was having car trouble.
State Police Special Agent Mike Jones says he no longer believes that Justine Abshire was a "standing pedestrian" at the time of her death, and that they have found her Ford Mustang was working fine the night she died and was not broken down. Jones also says that Abshire had a "seasonal jacket" with her in the car, but was not wearing it in spite of the cold temperatures that night.
Eric Abshire has not been named as a suspect, and denies any wrongdoing in the death of his wife.
State Police urge anyone with information to call 1-800-572-2260, or 540-829-7400. There is a $50,000 reward for information leading to the arrest and conviction of the person or persons responsible for her death.