Albemarle Swim Coach Dies at Meet
Posted:
Updated: Dec 9, 2007 05:50 PM EST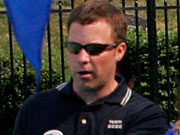 Albemarle High School swimming coach Kyle Wilson collapsed and died Sunday morning at a swimming meet in Annapolis, Maryland. The cause of his death is currently unknown. Wilson was 36 years old.
Wilson was in Annapolis coaching the Central Virginia Aquatics swim team at the 34th Annual North Baltimore Aquatics Club Christmas Invitational when he collapsed on the U.S. Naval Academy pool deck.
Wilson also coached swimming at the ACAC Fitness and Wellness Centers in Charlottesville and Albemarle County. A manager there said he was beloved by the people he worked with.
"He was the swim coach for our youth leagues. He was very well liked by the kids he coached, and very well respected," said Chris Harris with ACAC.
Ron Price, swimming coach at Charlottesville High School, remembered Wilson as a dedicated coach who motivated his swimmers to achieve their goals.
"I know that the students Kyle coached became better swimmers because of him. One student just broke a 27-year long record and it's because of Kyle," said Price.
Harris said Wilson spent more than a year working at ACAC. Wilson served as an assistant coach of the Virginia Gators swim team. He swam competitively for twelve years and was a varsity swimmer at Auburn University.
Reported by NBC29