Vacation Homes Offer Relaxation and Recreation
Posted:
Updated: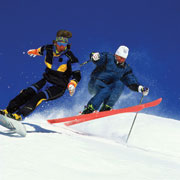 By Joanne DiMaggio
As a child growing up in Chicago, both sets of my grandparents had what we called "summer homes"-one at Bass Lake, Ind. and the other at Lake Como, Wis. I spent almost every summer in Indiana and for someone growing up in an urban environment, those summers at the lake were the happiest memories of my childhood.
Like myself, Becky Templeman, Associate Broker at Real Estate III, who is licensed to sell real estate in Virginia, Wyoming, and Colorado, had a similar childhood experience, making her especially sensitive to the needs of buyers who want to create memories of their own by buying a vacation home.
"Summer childhood memories of my grandparents' cottage on a lake in Michigan left its impression on me, and they are why I empathize with those who seek vacation homes. It is retreat, spiritual restoration, reunion, physical rest, solace, and adventure all wrapped around a time and place. Rituals like hanging the hammocks, the annual swim across the lake, putting in the dock, opening the shutters, the first fire of the season, and a pair of old shoes in the closet there to meet you like an old friend. The simple pleasures of a sweet birdsong, sleeping with the windows open beneath a lovingly-made patchwork quilt can offset modern mania. A vacation home offers balance and temperance in our world where the fast lane has conditioned the human race to move so fast 'it leaves itself behind' (Winston Churchill)."
While some people may think of their "vacation" home as their primary residence, Vicki Wilson, owner/broker of Monticello Country REALTORS®, says there is a definite difference between the two.
"Most people consider a vacation home a second or third home, a place where you can escape," she said. "A vacation home would be for a certain lifestyle or for a long-term investment. A full-time residence is your primary residence. There is a difference when determining your tax deduction in a full-time or primary residence."
Asking the Right Questions
REALTORSÒ who specialize in selling vacation homes know the right questions to ask potential buyers to help find the right home on the right site.
Brian Chase, Managing Broker for Roy Wheeler Realty Co. Wintergreen Resort Premier Properties, says he asks about how they intend to use the property. Will it be used exclusively for their family or partially as an investment property?
"A lot of folks find deferring the cost of their ownership through a part-time rental scenario makes them feel better about having a vacation home that's not sitting empty," Chase said. "I also ask them if it's going to be used by multiple families or extended families or a group of two or three close families that might buy the property together. That would help direct them to a different type of property. A lot of vacation properties are built with multiple master suites to serve the needs of multi-family ownership."
Many Options
Central Virginia has a bounty of vacation home options and truly offers something for everyone. Whether you are looking for property that has water views or something more secluded with the Blue Ridge Mountains as a backdrop, there are attractive options just waiting to be explored.
"Central Virginia offers the proximity to Charlottesville, airports, lakes for summer activities and family fun, mountains for more winter activities and sports-these are all attractive to a buyer," said Wilson. "There is boating, fishing, hiking, tennis, shopping, and lots of fun. Vacation homes offer stress relief and relaxation."
Templeman said people choose vacation homes for different reasons, but she goes back to Churchill's quote about leaving oneself behind.
"The quote by Churchill sums up what I hear more Americans, especially inside the Washington Beltway, saying: 'We are stumbling through life and when we do stop to pick up the pieces, we act as if nothing happened.' Getting out of town, even just three hours to a place like Wintergreen, can restore clarity and purposefulness. A vacation home can become the resource for renewal, in its many recreational choices, music concerts, and group activities. However, I hear sellers and buyers say they were attracted to the second-home ownership for privacy more than any other single factor."
Central Virginia has three out of the top four places that attract the most interest in vacation property. Citing statistics posted on www.resortsandlodges.com, Templeman reports that Wintergreen Resort is number one among the Top 10 resorts and conference centers in Virginia. The Homestead came in third, and Mariners Landing at Smith Mountain Lake was fourth.
"With 11,000 acres, Wintergreen and its Stoney Creek golfing and fulltime residential areas, seems more like a community and by far has the most family-friendly attractions," Templeman said. "The water sports at Smith Mountain Lake are appealing in the summer, yet Wintergreen's 25 ski trails and seven lifts sets it apart for the best and closest skiing to Northern Virginians in the winter months."
Wilson said that while Lake Monticello is advertised as a place to "vacation at home," it is not advertised as a vacation community. Still, you may be hard pressed to find a resident who doesn't consider living there as the best of both worlds.
Where Buyers Come From
The desire to own a vacation home goes across all demographics, but clearly those who pursue that desire the most are older and reside in more urban areas.
Wilson said that although her buyers are folks with older children or children in college and retirees from all over, she has had younger couples and singles buying vacation homes. "In my opinion, there isn't a narrow demographic or specific area they're coming from," she said.
Templeman approaches the question of demographics from a statistical perspective. In 2001, when she was the lead sales manager for Wintergreen Partners Inc.'s three-month equity conversion campaign, she spoke with hundreds of the 3,500 Wintergreen property owners and collected some interesting statistics about their home base.
"Almost one-third of them were from inside the Beltway or urban Maryland--Bethesda, Potomac, Columbia," she said. "The next largest regional demographic was the Richmond/Virginia Beach vacation homeowner. Raleigh/Durham Research Triangle took third place. From all three areas of primary residency, Wintergreen was only a two-three hour drive away for a weekend retreat."
Chase said his clients come from up and down the Eastern Seaboard. "I get calls from folks from Florida all the way to New York and New Jersey. It's such a centrally located place that it's often a destination place where extended families and multiple generations can meet."
Market Ups & Downs
The vacation home market has fluctuated, not only because of the real estate market, but also because of what is happening across the globe. As world events create a shift in people's priorities, the vacation home reflects that paradigm. After September 11, 2001, for example, Templeman said she received many calls and inquiries from non-residents wondering how quickly they could "get out of town" in a national emergency.
"It was no surprise then that the real estate market, aligned with easy money for second home mortgages during 2004-2006, converged and sales began to increase, along with a major spike in average sale prices. Families wanted to spend time together again. Just four years later, Wintergreen experienced its best market with low inventory and the highest sale prices and fewest days on the market. Demand drove the supply in that seller's storm. It was win-win for everyone."
Templeman reported that the CAAR MLS sales and inventory reports reveal an overall decline of 12% in sales at Wintergreen (including condominiums) compared to May of 2008. But she said, there's a light at the end of the tunnel.
"If you consider 2005 as the peak of a seller's market at Wintergreen, then we're more than halfway through this buyer's cycle, so being a glass-half-full kind of thinker, the end is in sight and recovery has begun. This further underscores the evidence that it truly is a great opportunity to buy a vacation home. Interest rates are in the low 6.0% per annum with a 20% down payment, and there is money available for vacation home investments now. As always, there are investors looking for 1031-IRS exchange approved properties, and with the vast levels of inventory, this niche could help restore the market to more normal levels."
Brian Chase said he has found many prospective buyers are focused on defraying their cost of ownership, so many of his clients want to understand thoroughly how their property can generate rental revenue. "There are a number of management companies, and I find folks are interested in interviewing one, two, or three of those to find out the best fit. It boils down to how much heavy lifting does the owner want to do."
From her perspective, Vicki Wilson feels the vacation home market has been "pretty stable" over the past 10 years.
"With prices so low now, buyers are looking for that special home," she said. "They feel like their monies can be put towards an investment of real estate and have something to enjoy in return for years to come. We are seeing a lot of first-time homebuyers because of the $8,000 tax credit, which would be a full-time residence or a primary residence. So the percentages are probably higher for the full-time residential market."
Many who seek vacation homes are also eyeing them for retirement. Wilson said she works with her buyers who are looking for a future retirement home to select a home based on style, size, and location. "I point out the resale features on every home my buyers shop for. After all, you don't want to have a home that is not marketable in case you have to sell down the road. They need to check out areas, conveniences, amenities, taxes, and prices. I also believe the less work (i.e., fixing up, hard work, maintenance, etc.) required makes a big difference in the buyers' decision."
Wilson advises buyers to consider how much time they will be spending at their vacation home. "For the most part, buyers use vacation homes for summer vacation, weekends, and holidays. At Lake Monticello, second homebuyers have neighbors or friends, relatives that can look after a property, or they can drive here when they want. Others can prepare their home for long periods of vacancy if they live further away. That is why upkeep and maintenance are very important on choosing a second home."
Years ago, a vacation home meant roughing it. Not anymore, said Wilson. "Buyers want luxuries and comfort. You can have the best of both in most communities and areas. You can have a cookout, camp in your backyard, roast marshmallows, and still have the comforts of home."
The Future of The Vacation Home Market
Templeman said resort and second home sales are not as popular as in the past, but there are still some very positive reasons to invest in a vacation property.
"With 'fear of flying' and the high cost and low quality of airline travel for cross-country vacations to destination resorts, a backyard resort market is appealing to Virginians and our neighboring states," Templeman said.
Wilson agrees. "In this economy and being a so-called 'buyers market,' this is the perfect time to purchase a vacation or second home. It will bring future benefits and equity that lends itself to the best investment around. I believe vacation homes will continue to increase over the years. As families are spending more time together, there is no better way to enjoy a great lifestyle. We have been selling second/vacation homes since 1984 at Monticello Country REALTORS®. This is the year of the buyer. There are currently 18 waterfront homes on the market, which some consider a perfect vacation home."
Brian Chase said that many people have put this kind of purchase on hold in recent years-"Not because they don't want it, but because they don't want to find themselves losing money," he explained. "We've been in that pattern for a few years and we're starting to come out of it. The general consensus is the market is bottoming out. I'm starting to receive inquiries that I've been waiting on for a couple of years, so there's reason to think this market is going to start moving this year and into next. Some people whose investments were seriously damaged may not make this type of purchase in the near term or they'll scale it back, but the sheer number of Boomers suggests this kind of purchase is going to increase going forward."
To read the latest issue of the CAAR Real Estate Weekly, go to www.caar.com/clickbook.