Witness in Game Warden Case Found
Posted:
Updated: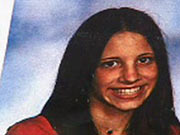 Reported by Joanna Shrewsbury
August 28, 2007
For months, the young woman who was in the car with her boyfriend when he was shot by a game warden in Greene County was missing. Now, Chelsea Walker is back.
There's no shortage of questions about where she's been, why she disappeared and what brought her back. Chelsea Walker has been missing since the end of June and is a critical defense witness in the case against game warden Robert Ham.
NBC29 spoke with a friend of Chelsea's family Tuesday morning who says Chelsea Walker returned Monday. After meeting her family at her high school, she is safe at home. The friend would not say if they were expecting her or if it was a surprise, but either way it brings weeks of worry to end for her family.
The night of January 24, Chelsea was in the car with her boyfriend, 16-year-old Allen Cochran, when Robert Ham shot Cochran. Cochran died.
Ham's attorneys say the shooting was in self-defense and that Chelsea can prove that on the witness stand.
In a written statement, Chelsea told police Cochran hit Ham with his car before Ham fired the shots that killed him. If Chelsea had still been missing when the case went to trial, then her testimony may have been thrown out because the prosecutor would not have a chance to cross examine her.
In an attempt to find her, the defense had filed a motion to call Danielle Ramierez, Cochran's mother, to the witness stand. The hearing was supposed to happen Tuesday, but since Chelsea is home Ramierez no longer needs to testify.
Ham faces voluntary manslaughter charges.