Game Warden Arraignment Rescheduled
Posted:
Updated: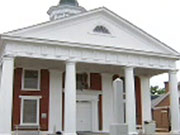 Reported by Jenn McDaniel
July 24, 2007
The Greene County game warden charged with killing a teenager after a routine traffic stop was supposed to be arraigned Tuesday. But he won't have his day in court until August because of a lack of paperwork.
The defence says these documents are vital to getting to the bottom of the allegations against Robert Ham. Voluntary manslaughter charges have been filed against Ham for the death of 16-year-old Allen Cochran.
Tuesday, the judge ruled that Danielle Ramirez, Cochran's mother, produce documents that may be relevant to the case. At issue are items such as a letter written by her son, diaries and journals containing his feelings and any intentions to hurt anyone as well as medical or psychological records.
"It is very very important that all information be disclosed and brought forward that is at all relevant to any issue in this case," stated Ham's attorney Steven Benjamin.
Commonwealth's attorney Ron Morris explained, "They are documents that the defense believes would be helpful for their case in maintaining a self-defense case in this matter."
Cochran was killed in January. Police were trying to stop Cochran in his car, as they thought he might be with a missing teen they were looking for. According to investigators, Ham fired his gun after Cochran tried to run him over with his car.
Ham is still employed with the Department of Game and Inland Fisheries in a non-law enforcement role.
Ham's arraignment is now tentatively set for August 7.