Fact File
Fact File: William Beebe
Posted:
Updated: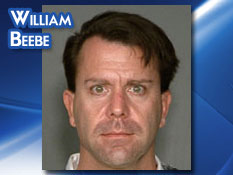 January 6, 2006 - Real estate agent William Beebe is arrested in Las Vegas, Nevada for a 1984 rape at the University of Virginia. He was a fraternity brother at Phi Kappa Psi Fraternity House on Madison Lane where fellow UVA student Liz Seccuro was allegedly raped.
Charlottesville detectives search Beebe's house in Vegas where he confesses to the crime. Police also say Beebe apologized in emails to Seccuro as part of a 12-step Alcoholics Anonymous program.


Beebe is held without bond at the Clark County Detention Center in Nevada.


UVA comes under fire for past actions concerning the case. UVA turns over files to police.
January 9, 2006 - Beebe makes court appearance by video teleconference. Judge denies attorney's request to release Beebe on bond so he can face charges in Charlottesville.
The governors of Virginia and Nevada will have to sign an order for his return to Charlottesville. The process could take three months.
January 10, 2006 - Beebe returns to court for an extradition hearing. The judge sets bail at $20,000 and tells Beebe he has 30 days to return to Virginia.
January 11, 2006 - Beebe posts bond. He has until February 9 to return to Charlottesville to turn himself in.
January 12, 2006 - NBC29 airs its interview with Liz Seccuro. It is her only television interview at the time.
Securro is married, has a child and owns an event planning company in Greenwich, Connecticut, but she says that the rape still haunts her:
"Not a day goes by that I don't think of this incident, whether it's in a bad dream, whether I see somebody's face...or whether I'm going to bed at night and I think: why did this happen to me?"
UVA police say there are no records Seccuro filed a report with then. The Charlottesville police say the same.


The University reveals they can did not have the ability to act as a third party to report sexual assault allegations to police in 1984 unless an alleged victim wanted to follow through with a report. Seccuro says she wanted to file a report but UVA officials told her she could not.
January 17, 2006 - Beebe is free on $30,000 bond after turning himself in to Charlottesville police in the morning.
March 24, 2006 - At a preliminary hearing, a Charlottesville judge rules there is enough evidence against Beebe to send his case to a grand jury.
The court appearance is the first time in two decades that Beebe and Seccuro see each other. Securro answers questions for nearly two hours about the alleged assault.
April 17, 2007 - A grand jury hands down a two-count indictment to Beebe. He will face charges of rape and object sexual penetration in a four-day trial on November 27.
If convicted, Beebe could face life in prison.
May 19, 2006 - Seccuro appears on The Today Show in an interview with Katie Couric. NBC also airs an hour-long Dateline special on the case.
NBC29 obtains UVA's five-page report about the case. Notes from Sybil Todd, the Associate Dean of Student who investigated Seccuro's allegations in 1984, document interviews with witnesses.


The first two pages of the report are a typed summary of the investigation. Seccuro says these pages are "full of lies."
June 21, 2006 - Beebe's defense attorneys say they will try to get the rape charges dismissed because they say the case is too old. A hearing on the motion to dismiss is scheduled for September.
September 28 - Beebe's attorneys present several motions for his upcoming trial. The judge overrules the motion to bar Seccuro from testifying about three pieces of evidence she already destroyed.
Both the defense and prosecution present concerns about hearsay, credibility and evidence. The defense voices concerns about pre-trial publicity and its effect on the jury.
November 14, 2006 - Beebe pleads guilty to rape charges. The state recommends he serve two years in prison. He also agrees to cooperate in the investigation into whether Seccuro was raped by other people at the frat party.
Beebe will remain free until sentencing March 15.
March 15, 2007 - Beebe gets a 10-year sentence but only has to serve a year in a half in prison. He also is sentenced to 500 hours of community service that the judge wants spent talking to UVA students about alcohol abuse and sexual assault.
Seccuro says the sentence is fair and fits the crime. She also says she forgives Beebe but hasn't forgiven the university.


Beebe will remain at the Charlottesville Albemarle Regional Jail until transferred to a state prison.
August 8, 2007 - NBC29 learns Beebe may be released from jail early--on September 17. If that's the case, he will have served six months.
He's eligible for parole because he committed his crime before 1995, when Virginia eliminated the possibility for parole.

Liz Seccuro says she hopes Beebe's early release doesn't stop other rape victims from telling their story to authorities.
September 12, 2007 - NBC29 learns Beebe will be released even earlier than anticipated, on Thursday September 13, 2007.